Wrongful Death Claims: An Overview
November 2, 2022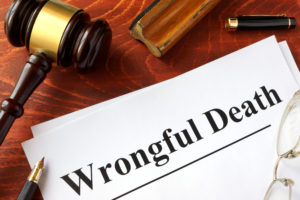 When someone dies due to the negligent or wrongful acts or omissions of another person or entity, that person's surviving representatives and family members can bring a wrongful death claim against the party or parties responsible for the decedent's death. Wrongful death claims seek compensation on behalf of the decedent and his or her surviving family members.
What Is a Wrongful Death Claim?
A wrongful death claim arises when a person dies due to the legal fault of another person or entity. Wrongful death claims are a relatively recent legal innovation, with courts across the U.S. during the 20th century recognizing the rights of a decedent's estate and his or her surviving family member to seek compensation for the legally wrongful acts of another person or entity, rather than letting that person or entity avoid legal responsibility for their actions simply because their victim happened to pass away.
The popular understanding of a wrongful death claim is really two separate legal actions in one – a wrongful death action and a survival action. The wrongful death action provides compensation to a decedent's surviving family members, providing recovery for the loss of the decedent's companionship, guidance, advice, society, contribution of household services, and contributions to family finances. A survival action on the other hand provides compensation to the decedent's estate and covers the same kinds of damages that would be compensated in a personal injury lawsuit, including medical expenses to treat the decedent's last injury or illness, any lost wages incurred prior to the decedent's death, and (if the decedent suffered economic damages) the conscious pain and suffering endured by the decedent prior to his or her death.
Who Can Bring a Wrongful Death Claim?
In New Jersey, a wrongful death claim can be brought by the personal representative of the decedent – typically, the administrator or executor of the decedent's estate. The personal representative would assert both the wrongful death action on behalf of the decedent's surviving family members and the survival action on behalf of the decedent's estate.
Who Is Liable in a Wrongful Death Claim?
A wrongful death claim can be brought against any person or entity who is responsible for causing the death of another person. Any individual, company, or government can be subjected to a wrongful death suit. Examples of parties who may be liable in a wrongful death claim include:
A driver at-fault in a motor vehicle accident
The employer of a person whose intentional or reckless acts or negligence caused the decedent's death
The designer or manufacturer of a faulty product, vehicle, building, roadway, etc.
A government whose workers failed to provide adequate warnings or take adequate steps to protect the decedent's safety
The owner of property where the decedent was killed in a premises liability incident
Immunity for Wrongful Death Suits
However, in certain cases, a party may enjoy immunity from a wrongful death claim. In New Jersey, the courts have ruled that state agencies and municipalities may enjoy qualified or absolute immunity from a wrongful death suit under the state's Tort Claims Act. And federal law has limited or eliminated immunity for wrongful death suits in certain circumstances such as those involving railroads or pharmaceutical drugs.
Contact a Hazlet Personal Injury Lawyer to Discuss Your Wrongful Death Case in New Jersey
Did you have a loved one suffer a wrongful death in New Jersey? Don't wait for the negligent party or their insurance company to do the right thing. Right now, you need an aggressive personal injury attorney on your side, fighting to get you the compensation you need, want, and deserve. The skilled attorneys at Rudnick, Addonizio, Pappa & Casazza PC represent clients whose loved ones have suffered a wrongful death in Freehold, Long Branch, Edison, Woodbridge and throughout New Jersey. Call (732) 264-4400 or fill out our online contact form to schedule a consultation about your case. We have an office conveniently located at 25 Village Ct., Hazlet, NJ 07730, as well as offices in East Brunswick.

The articles on this blog are for informative purposes only and are no substitute for legal advice or an attorney-client relationship. If you are seeking legal advice, please contact our law firm directly.