What Types of Injuries Often Occur When People Are Involved in Motorcycle Accidents?
March 24, 2020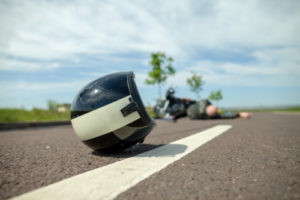 Many people enjoy riding on their motorcycles. When the weather is nice, there is something so exciting about hopping on the motorcycle, enjoying the fresh air, and going on a nice ride on the road. While there is nothing wrong with riding a motorcycle, accidents can and do occur on different occasions. It is necessary for motorcyclists to take extra precautionary measures to keep themselves safe while operating the motorcycle. When accidents do occur involving a motorcyclist and another motorist, the injuries are often much more severe and may even result in death.
What Types of Injuries Commonly Happen?
When motorcyclists do get into accidents on the road, some injuries are more common than others. You may want to know which injuries commonly happen when these accidents occur.
Trauma to the Head
Because a motorcyclist may be thrown from the motorcycle when hit by another vehicle, they could land on the ground and hit their head hard. If they are not wearing a helmet, the trauma to the head is often incredibly severe and can lead to brain bleeding, memory loss, difficulty speaking, and more. Even if a motorcyclist is wearing a helmet, they can end up with a concussion as a result of falling to the ground from the motorcycle in an accident.
Broken Limbs
Due to the lack of protection for motorcyclist's bodies, it is common for them to break limbs when they get into motorcycle accidents. While some motorcyclists may only break a leg or an arm, others may break multiple bones throughout their bodies, including legs, arms, wrists, and even their pelvic bone.
Damage to the Neck
Being thrown from a motorcycle due to the impact of the collision can cause head trauma, but it can also lead to damage to the neck. In addition to whiplash, other injuries to the neck can occur that would cause permanent disabilities or even paralysis. These types of injuries can negatively impact an individual's life in many ways.
How to Prevent Motorcycle Accidents and Stay Safe
If you are a motorcyclist, there are a few things you can do to keep yourself more protected and safer while on the road. Always make sure to wear proper protective gear, including a helmet for your head, a leather jacket to protect your body from road rash if you are thrown from the motorcycle, protective pads for your elbows and knees, and boots to keep your feet safe while on the road. Along with wearing safety gear, be sure to pay attention to the road and all your surroundings. Avoid driving in blind spots where other drivers might not be able to see you. If you have additional questions about the common reasons why motorcycle accidents occur, click the link.
How Is Fault Determined in Motorcycle Accidents?
The fault is often determined in motorcycle accidents after an investigation is performed. There is a lot that goes into the investigation, which includes interviewing witnesses, having expert witnesses come in to provide opinions, reviewing surveillance footage, and checking the road for potential evidence. Once an investigation is performed, an attorney can pursue compensation for the motorcyclist who has sustained countless injuries and may even be permanently disabled because of the accident.
Contact an East Brunswick Personal Injury Lawyer to Discuss Your Motorcycle Accident Case in New Jersey
Did you or a loved one sustain serious injuries due to a motorcycle accident in New Jersey? Don't let the medical bills pile up while you wait for the negligent party or their insurance company to do the right thing. Right now, you need an aggressive personal injury attorney on your side, fighting to get you the compensation you need, want, and deserve. The skilled attorneys at Rudnick, Addonizio, Pappa & Casazza PC represent clients injured because of motorcycle accidents in East Brunswick, Holmdel, Freehold, Marlboro and throughout New Jersey. Call 866-567-0135 or fill out our online contact form to schedule a free consultation about your case. We have an office conveniently located at 197 State Route 18 South Suite 3000 in East Brunswick, as well as offices in Hazlet.
The articles on this blog are for informative purposes only and are no substitute for legal advice or an attorney-client relationship. If you are seeking legal advice, please contact our law firm directly.