Is Riding A Motorcycle During the Winter Dangerous?
December 28, 2022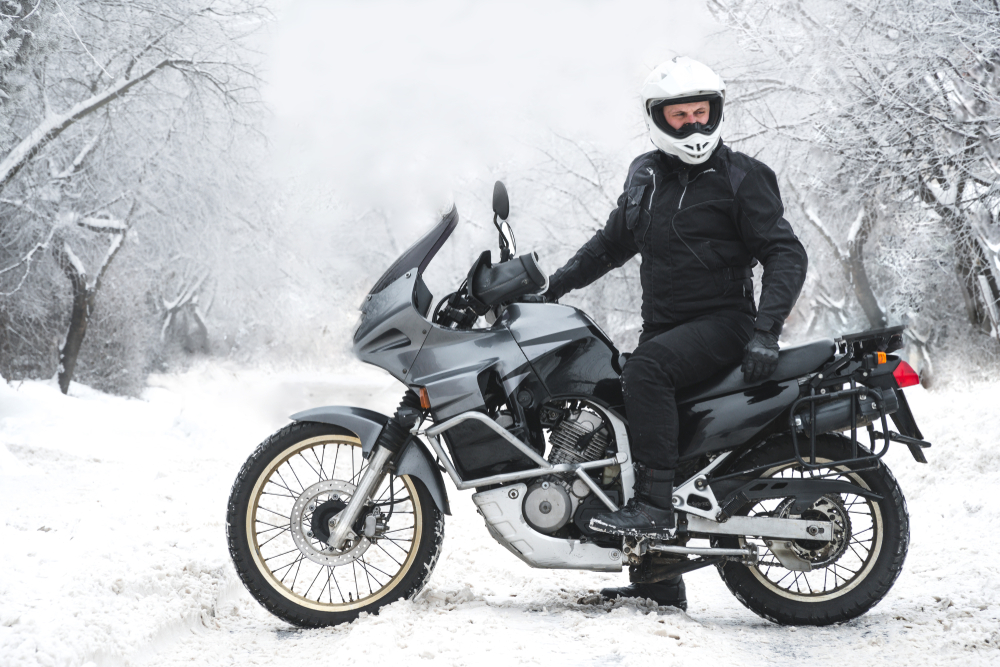 There's always some degree of risk when riding a motorcycle. Some driving situations may be worse, including during the winter months. Find out what makes riding a motorcycle in the winter months more dangerous and what you can do to increase your safety.
Common Risks of Riding a Motorcycle During the Winter Months
These are some of the biggest risks or dangers of riding a motorcycle during the winter months:
Slippery roads: As rain turns to ice, it creates a slippery and dangerous riding situation for motorcyclists. You may find it more difficult to hit your brakes or to come to a stop.
Distracted riding: Distractions are at an all-time high during the winter months. People are focused on getting to school or work on time. The distractions can lead to passenger vehicle's not noticing motorcycles.
Impacted snow: Impacted snow on roads that aren't yet plowed can make it difficult for motorcyclists to ride.
Hypothermia: Hypothermia is also a possibility when riding since a motorcycle doesn't offer the shield of a body frame. Motorcyclists are subject to a lot of wind when riding.
Riding a motorcycle during the winter can present additional challenges that aren't present during the summer months. Some distractions, like distracted driving, can be a problem all year long.
How to Stay Safe When Riding a Motorcycle in the Winter Months
You don't necessarily have to put away your motorcycle for the winter months. Understanding the risks and taking a few safety precautions can help you stay safe while still enjoying your ride.
One of the first things you should do before riding your motorcycle in the winter months is to invest in good-quality gear. You'll need a DOT-approved helmet to protect your head from any injuries. You'll also want warm, wind-resistant riding gear, gloves, and boots. You might also consider wet-resistant materials in case it snows while riding. Layering may be a good idea to accommodate New Jersey's fluctuating weather. Finally, choose riding gear that will ensure you're seen as the days get darker earlier.
Another thing to do before riding during the winter is to schedule a preventative maintenance appointment. Ensure your motorcycle is safe to ride.
Then, brush up on some safety tips for riding your motorcycle in the winter. Be sure to keep a safe distance between you and the vehicle in front of you. Don't change lanes until you're sure that nearby vehicles are aware of your intention. If possible, ride in a group, as this can help other drivers on the road recognize you.
Make Medical Care a Priority Following a Motorcycle Accident
If you are involved in a motorcycle accident this year, be sure to make medical care a priority. Motorcycle accidents are commonly severe, as many motorcyclists are thrown from their bikes. Even if you feel fine, there may be symptoms that won't present themselves until much later. Once you receive medical care, consider reaching out to a motorcycle accident lawyer to help you recover damages.
Contact an East Brunswick Personal Injury Lawyer to Discuss Your Motorcycle Accident Case in New Jersey
Did you or a loved one sustain serious injuries due to an accident in New Jersey? Don't let the medical bills pile up while you wait for the negligent party or their insurance company to do the right thing. Right now, you need an aggressive personal injury attorney on your side, fighting to get you the compensation you need, want, and deserve. The skilled attorneys at Rudnick, Addonizio, Pappa & Casazza PC represent clients injured because of a motorcycle accident in Old Bridge, Piscataway, New Brunswick, Perth Amboy, and throughout New Jersey. Call 866-567-0135 or fill out our online contact form to schedule a free consultation about your case. We have an office conveniently located at 25 Village Ct, Hazlet, NJ 07730, as well as an office in East Brunswick, NJ.
The articles on this blog are for informative purposes only and are no substitute for legal advice or an attorney-client relationship. If you are seeking legal advice, please contact our law firm directly.