Can I File for Workers' Compensation if I Contract COVID-19?
November 15, 2020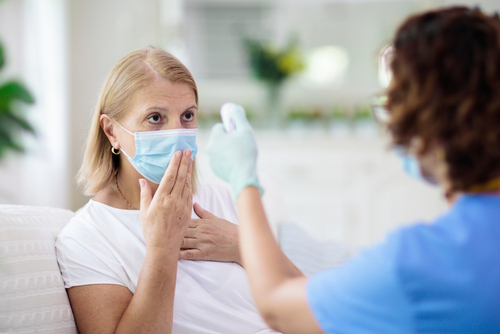 COVID-19 has us all navigating in an unfamiliar world. We are finding new ways to communicate with friends and family, work remotely, buy our necessities in a safe manner, and even reduce our risks of getting the virus. So, what happens if you contract COVID-19 while working? Who will cover your medical bills and medications?
Read more: 7 Steps to Your New Jersey Workers' Compensation Claim
Workers' Compensation Benefits in New Jersey
Workers' compensation is a type of insurance that is designed to help workers with their medical bills and time off of work, in the event that they are injured while on the job. This type of no-fault insurance program means that workers can take advantage of benefits, regardless of who is at fault, as long as they were injured while at work, completing an approved work duty.
Read more: When Is It Best to File for Workers' Compensation?
A Time of Essential Workers
Some industries have always been recognized as being riskier, including construction workers and police officers. But, in the time of COVID-19, many new jobs have been now considered to be risky. Essential workers are the workers who work in industries that are necessary to the public. This includes:
Grocery workers
Mail carriers
Pharmacists
Medical professionals
Teachers
and more
These people are more likely to be exposed to the virus. The initial workers' compensation policy did not cover occupational diseases. However, the policy was then amended a few years later to include nine diseases, as long as they were contracted while at work; such occupational diseases include hearing loss, cardiac injuries and orthopedic injuries. This policy was then amended again to include diseases that were pre-existing but were worsened by employment.
What Is a Compensable Occupational Disease?
Workers' compensation only covers compensable occupational diseases. This is a disease that came from the time during employment, from a disease that is characteristic of a certain industry. While some states require that you prove that you contracted the disease at work, the state of New Jersey does not require this to collect coverage. Instead, you must just demonstrate that it is more likely than not that you got it from work.
This presents a challenge with COVID-19. Because COVID-19 is rampant around the entire country (and the world), it can be especially difficult to demonstrate that you contracted it through the scope of your employment. This is especially true since the Coronavirus is not characteristic of a certain industry.
Read more: Does Workers' Compensation Apply for At-Home Employees in New Jersey?
What is the Canzanella Act?
The Canzanella Act is available to public safety workers who may contract a communicable disease during employment. Through the Canzanella Act, it is the employer's burden of proof to demonstrate that the individual did not contract the disease from work. This covers certain public safety workers, like:
Paid police officers
Paid firefighters
Volunteer firefighters
Community Emergency Response Workers
Correctional facility employee workers
Basic and advanced medical technicians
These individuals may be eligible for benefits due to the Coronavirus. Additionally, this act may allow other individuals who do not fall into these categories to collect benefits.
Read more: Are New Jersey Police Officers and Prison Workers Eligible for Workers' Compensation Benefits if Diagnosed with COVID-19?
Contact a Marlboro Workers' Compensation Lawyer to Discuss Your New Jersey Workplace Injury Case
A workplace injury can be devastating, particularly if it prevents you from returning to work for an extended period of time. Although New Jersey Workers' Compensation laws are supposed to provide you with reimbursement for medical expenses and replacement pay for missed time at work, it is not always easy to get the Workers' Comp benefits you deserve. That is why you should speak with a knowledgeable Workers' Compensation lawyer about your situation and get guidance throughout the claims process. The experienced Workers' Compensation attorneys at Rudnick, Addonizio, Pappa & Casazza PC represent clients in Middletown, Howell, Marlboro, Manalapan, and all across New Jersey. Call (732) 264-4400 or fill out our online contact form today to schedule a consultation about your work injury case. Our main office is located at Park Village, 25 Village Court Highway #35, Hazlet, NJ 07730, and we also have an office in East Brunswick, NJ.