What to Do If You Are Involved in an Accident Even If It Is Not Your Fault
January 21, 2020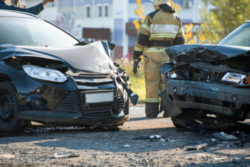 Being involved in an accident can be overwhelming. While the details of the accident and who is at fault will become important when discussing who will cover the damages, there are other important steps to take first.
Important Steps Following a Car Accident
Regardless of who is at fault, you will want to take these steps following a car accident:
Check the condition of everyone involved: If you are able, it is important to determine the condition of everyone involved in the accident. Call for emergency help, if needed.
Report the accident: It is important to also have an official report of the accident. Request a copy of the police report.
Collect information: Information like a copy of the police report, photographs of the accident, and the contact information of any witnesses, will help to determine your lack of fault. Request a copy of the other driver's contact information including their phone number, insurance provider, and address.
Contact your insurance provider: Because New Jersey is a no fault state, your damages will be covered by your insurance provider. It is important to report the accident to them as soon as possible.
Immediately following a car accident, collecting information and contacting your insurance provider might not be the first thing on your mind. However, these crucial steps will ensure that you have the documents needed to collect the compensation that you need to recover from the car accident.
When to Contact a Manalapan Car Accident Lawyer
There are a few occurrences in when it might be necessary to contact a car accident lawyer, which include:
Difficulty Collecting Compensation Through Insurance Company
In a no fault state, your insurance provider should cover your damages. However, if the insurance company is making it difficult to collect or has denied your claim, then it might be useful to work with a car accident lawyer.
Costly Damages
Insurance will only cover a minimal amount of damages including physical injuries and property damage. Severe car accidents can quickly exceed these costs. If your car accident includes extensive injuries or wrongful death, it is crucial to work with an experienced lawyer. Filing a third-party property injury claim may be needed to collect the compensation you need for costs like hospital bills, rehabilitative costs, lost wages, and property damages.
If there is question as to who is at fault, it may also be beneficial to work with a lawyer. While in a no fault state, whether or not you are at fault will not affect your coverage, it can lead to fines and an increased insurance rate. If the other driver experienced severe damages, they might seek additional compensation from you through a third-party claim. Working with an experienced New Jersey lawyer will ensure that your rights are protected.
It is not always easy to remember which important steps to take after a car accident. The most important thing to do is to evaluate the wellbeing and safety of everyone involved and then begin collecting important documents you might need to build your case.
Contact a Howell Personal Injury Lawyer to Discuss Your Car Accident Case in New Jersey
Did you or a loved one sustain serious injuries due to a car accident in New Jersey? Don't let the medical bills pile up while you wait for the negligent party or their insurance company to do the right thing. Right now, you need an aggressive personal injury attorney on your side, fighting to get you the compensation you need, want, and deserve. The skilled attorneys at Rudnick, Addonizio, Pappa & Casazza PC represent clients injured because of car accidents in Middletown, Marlboro, Manalapan, Howell, and throughout New Jersey. Call (732) 264-4400 or fill out our online contact form to schedule a consultation about your case. We have an office conveniently located at Park Village, 25 Village Court Highway #35, Hazlet, NJ, 07730, as well as an office in East Brunswick.
The articles on this blog are for informative purposes only and are no substitute for legal advice or an attorney-client relationship. If you are seeking legal advice, please contact our law firm directly.