Proving Fault When Injuries Arise After a Slip and Fall in East Brunswick, NJ
December 31, 2018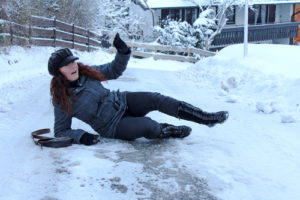 Slip and fall accidents are much more common than most people realize. When an injury arises due to a slip and fall accident, it is often difficult to determine who or what was at fault for the fall. Slip and fall injuries can be very severe because it is an unexpected injury. You can be walking in a parking lot, or down a grocery store aisle, then slip and fall unsuspectedly. This may cause you to fall in a way that could exacerbate future injuries.
A Property Owner's Duty to Prevent Slip and Falls in Howell, NJ
A property or business owner has a responsibility to maintain reasonably safe conditions for their guests. They must take reasonable steps to prevent accidents by keeping their property free from dangerous conditions. In a premises liability case, a property owner's duty to practice reasonable care is weighed against the level of care exercised by the injured victim. A property owner won't be responsible for injuries when a reasonable person could have avoided the accident.
Proving Liability in a Slip and Fall Accident in New Jersey
In order to prove that the property owner is responsible for the losses associated with the accident, usually, the injured victim must prove that:
The property owner or employee should have reasonably recognized the dangerous condition and taken steps to remedy the situation OR
The property owner or employee caused the dangerous conditions
During slip and fall claims, both parties will argue whether the other party was acting "reasonably" or not. To be held liable, the property owner or employee must have acted negligently in some way. Here are some questions to consider when determining whether the property owner acted reasonably or not:
How long was the dangerous condition present prior to your fall?
Did the property owner or employee have time to remedy the situation?
Did the property owner take steps to prevent the danger?
Types of Evidence to Help Prove your Claim in a New Jersey Court
Providing evidence is important in proving fault in your accident case. Following are some of the most useful types of evidence to collect for your claim:
Accident report: Injured victims should report the fall as soon as possible and request an accident report
Records of damages: Collect records such as medical bills, prescription orders, estimates regarding lost wages and other proof of the financial losses you have suffered
Witness reports: Onlookers who witnessed what happened when you fell can give their testimony and accounts
Video footage: Sometimes surveillance video footage can be obtained that can help strengthen your case
Contact a Hazlet Personal Injury Lawyer to Discuss Your Slip and Fall Case in New Jersey
Did you or a loved one sustain serious injuries due to a slip and fall in New Jersey? Don't let the medical bills pile up while you wait for the negligent party, or their insurance company, to do the right thing. Right now, you need an aggressive personal injury attorney on your side and fighting to get you the compensation you need, want, and deserve. The skilled attorneys at Rudnick, Addonizio, Pappa & Casazza PC represent clients injured because of slip and fall in Piscataway, New Brunswick, Middletown, Howell, and throughout New Jersey. Call (732) 264-4400 or fill out our online contact form to schedule a consultation about your case. We have an office conveniently located at Park Village, 25 Village Court Highway, #35 Hazlet, NJ 07730, as well as offices in East Brunswick.
The articles on this blog are for informative purposes only and are no substitute for legal advice or an attorney-client relationship. If you are seeking legal advice, please contact our law firm directly.