How to Avoid a Slip and Fall Hazard This Winter
January 25, 2022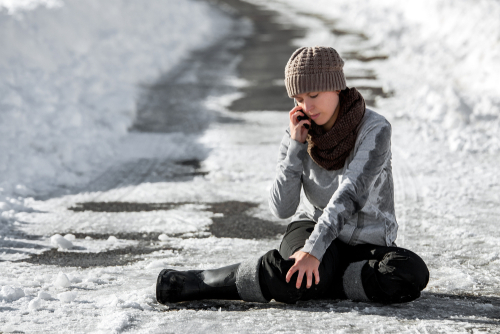 Winter is the season when the highest number of people are injured in slip and fall accidents in New Jersey. This is no surprise with the high snowfall and ice accumulation that the state can get each winter.
Common Injuries in a Slip and Fall Accident
A slip and fall accident can lead to any of the following injuries:
Head trauma
Back and neck problems
Internal bleeding
Broken bones
Some injuries may be minimal and require a little extra rest to recover, whereas others require ongoing medical care and treatment. Those who experience more severe types of injuries are more likely to have higher costs. They may have ongoing medical bills and may not be able to return to work for a while.
How Slip and Fall Accidents Affect Workers
If you're injured in a slip and fall accident, it's likely that you'll take at least one or two days off from work. If your injuries are significant, you may take even more time off than that. The National Floor Safety Institute estimates that slip and fall victims miss an average of 11 days of work each year. This can be even more difficult to navigate when your slip and fall accident occurs at work. Workplace injuries may require that you file a workers' compensation claim.
How to Stay Safe This Winter
Here are a few tips to follow to avoid slip and fall accidents this winter, whether you're out shopping or working.
1. Choose the Right Footwear
Good quality footwear is important when navigating slippery sidewalks and parking lots. Try to choose a pair of shoes that have non-slip bottoms to help you stay upright on ice.
2. Choose Clear Walking Paths
Sidewalks or walking paths are more likely to be shoveled and de-iced than other roads. Choose these paths when planning your route to avoid slip and fall accidents.
3. Report Icy Conditions
If you notice that a particular area is slippery, notify a supervisor or maintenance person to take care of it. This allows them the chance to remove the snow or add extra salt, keeping you and other visitors safe.
4. Avoid Distractions
Distractions, like using your phone can make it harder to identify a slippery area, increasing the chances that you'll fall. If you're navigating an especially slippery or icy area, put away your phone and focus on your footing instead.
Know What To Do If You're Injured
It's also important to know what to do if you are in a slip and fall accident. One of the first steps to take, whether you're at work or not, is to seek medical care. If you're injured in a slip and fall accident while at work, you'll also want to notify your supervisor or manager of the accident as soon as possible.
Keep all records of any medical care you receive. This information may be important to your workers' compensation case. It may also be necessary if you decide to file a personal injury case to prove negligence and to receive compensation for your injuries.
Contact a Howell Personal Injury Lawyer to Discuss Your Slip and Fall Case in New Jersey
Did you or a loved one sustain serious injuries due to a slip and fall in New Jersey? Don't let the medical bills pile up while you wait for the negligent party or their insurance company to do the right thing. Right now, you need an aggressive personal injury attorney on your side, fighting to get you the compensation you need, want, and deserve. The skilled attorneys at Rudnick, Addonizio, Pappa & Casazza PC represent clients injured because of a slip and fall in Middletown, Howell, Marlboro, Manalapan, and throughout New Jersey. Call (732) 264-4400 or fill out our online contact form to schedule a free consultation about your case. We have an office conveniently located at Park Village, 25 Village Court Highway, #35 Hazlet, NJ 07730, as well as an office in East Brunswick, NJ.
The articles on this blog are for informative purposes only and are no substitute for legal advice or an attorney-client relationship. If you are seeking legal advice, please contact our law firm directly.