How to Prevent a Winter Slip and Fall Accident
December 11, 2022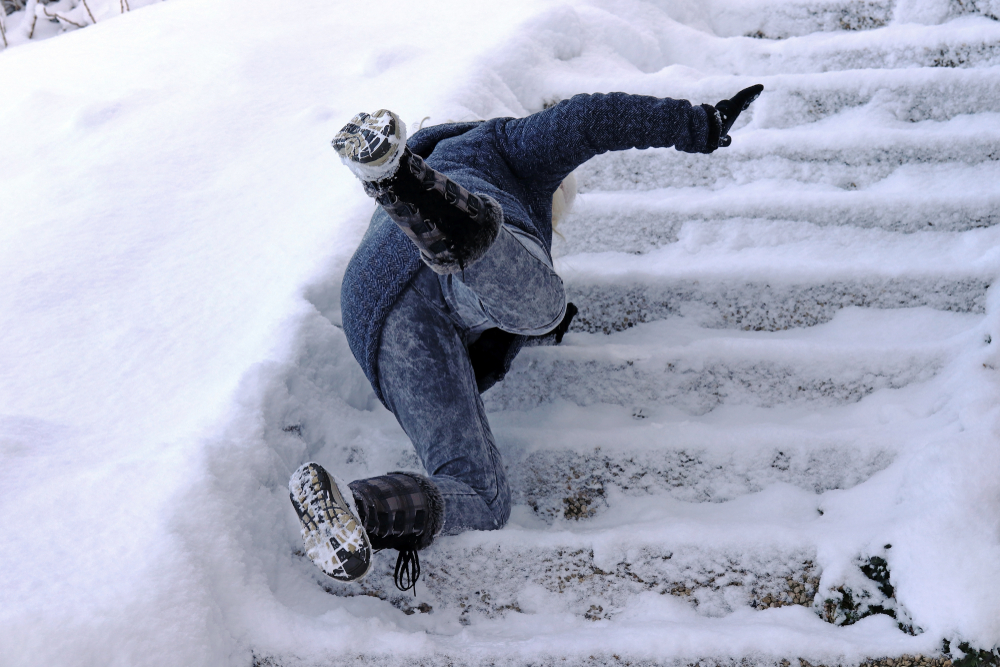 Winters in New Jersey can be harsh. The rate of slip-and-fall accidents increases significantly in the winter months due to an increased amount of ice and snow. As such, we have compiled a list of tips to prevent slips, trips, and falls.
Wear the Right Shoes
Shoes or boots with good soles can give you the traction you need on slippery walkways. Invest in a pair of good winter boots to help you get through the season injury-free.
Be Careful Getting In and Out of Your Vehicle
One of the biggest risks of slipping and falling is getting in and out of your car. Carefully choose your parking spots and test the ground before stepping outside.
Walk Slowly
Walking slowly can help you avoid slippery patches of the sidewalk. Take smaller steps so you can find your footing easier if you start to slip and fall.
Watch Out for Black Ice
Black ice isn't just something you should look out for while driving. It can also be a significant problem for pedestrians, as well. Look for black ice before walking on any sidewalks or roads by tapping your foot lightly against the pavement.
Wipe Your Feet
Wiping your feet when you enter a building helps prevent the snow that you track indoors from turning to ice. Stomp and wipe your feet on the front entrance of any building you enter. This not only helps keep you safe, but others passing through, as well.
Look for Other Hazards
Look for other hazards or obstacles that may lead to you slipping and falling like rocks, sticks, or branches that may be covered by the snow.
Protect Your Head
If you do slip and fall, tuck your head to protect it. A slip-and-fall accident can lead to broken bones, but hitting your head can be one of the worst injuries.
Avoid Carrying Heavy Items When You Can
Carrying heavy items makes it more difficult to see the walkways and can lead to severe injury if you slip and fall. If you're able to, get someone to help you carry everything in. Or, make several trips that way you're not carrying as much.
Use Your Vehicle to Brace Yourself
You can use your vehicle to brace yourself when getting in and out of it. Hold onto the door or seat when entering and exiting to maintain your balance.
Slip and fall accidents aren't always preventable. If you do slip and fall, ensure you receive the proper medical care. If someone else is to blame for your slip-and-fall accident, consider reaching out to a personal injury lawyer. The owners of public parking lots and commercial buildings should salt and remove snow in a timely manner to prevent slip-and-fall accidents.
When they don't, they may be liable for any injuries that occur. A personal injury lawsuit can help you recover costs from your injury, including medical bills, lost wages, property damages, and pain and suffering.
Contact a Middletown Personal Injury Lawyer to Discuss Your Slip and Fall Case in New Jersey
Did you or a loved one sustain serious injuries due to a slip and fall in  New Jersey? Don't let the medical bills pile up while you wait for the negligent party or their insurance company to do the right thing. Right now, you need an aggressive personal injury attorney on your side, fighting to get you the compensation you need, want, and deserve. The skilled attorneys at Rudnick, Addonizio, Pappa & Casazza PC represent clients injured because of a slip and fall in Middletown, Howell, Marlboro, Manalapan, and throughout New Jersey. Call (732) 264-4400 or fill out our online contact form to schedule a free consultation about your case. We have an office conveniently located at 25 Village Ct, Hazlet, NJ 07730, as well as an office in East Brunswick, NJ.
The articles on this blog are for informative purposes only and are no substitute for legal advice or an attorney-client relationship. If you are seeking legal advice, please contact our law firm directly.