One Worker Killed, Two Injured in Woodbridge Township Electrocution Accident
October 17, 2019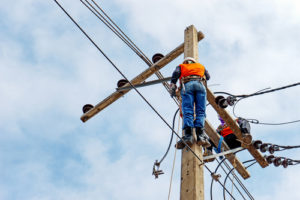 Construction Accident in Woodbridge Township, New Jersey
A construction site accident in Woodbridge Township left one worker dead and two others injured on the morning of Friday, October 11th. The incident occurred just before 8:00 am on Quincy Court where the workers were installing siding on a building.

A 40-foot pole from the scaffolding, on which the workers were standing, fell and hit the high tension wires near the site. As two of the workers went to grab the pole, it hit the wires, electrocuting them.

Police on the scene worked to revive the workers until EMS personnel arrived to take over the care of the victims. Two workers were transported to Robert Wood Johnson University Hospital where one worker was admitted in critical condition and the other was declared dead.

The third injured worker was transported to a hospital in Perth Amboy for serious burns.

Work on the site has been halted while the Occupational Safety and Health Administration (OSHA) can conduct an investigation.

A resident of the neighborhood described the accident, saying there was a loud boom and it felt like the area shook. She looked out her window to see the workers fall from the scaffolding. The witness said that the two workers who fell looked to be in bad shape and the third was being rendered CPR.
Contact an East Brunswick Workers' Compensation Lawyer to Discuss Your New Jersey Workplace Injury Case
A workplace injury can be devastating, particularly if it prevents you from returning to work for an extended period of time. Although New Jersey workers' compensation laws are supposed to provide you with reimbursement for medical expenses and replacement pay for missed time at work, it is not always easy to get the workers' comp benefits you deserve. That is why you should speak with a knowledgeable workers' compensation lawyer about your situation and get guidance throughout the claims process. The experienced workers' compensation attorneys at Rudnick, Addonizio, Pappa & Casazza represent clients in East Brunswick, Hazlet, Union Beach, Holmdel, and all across New Jersey. Call 866-567-0135 or fill out our online contact form today to schedule a consultation about your work injury case. Our main office is located at 197 State Route 18 Suite 3000, New Brunswick, NJ 08816 and we also have offices in Hazlet.

The articles on this blog are for informative purposes only and are no substitute for legal advice or an attorney-client relationship. If you are seeking legal advice, please contact our law firm directly.