8 Common Accidents Resulting From Construction Equipment
August 1, 2021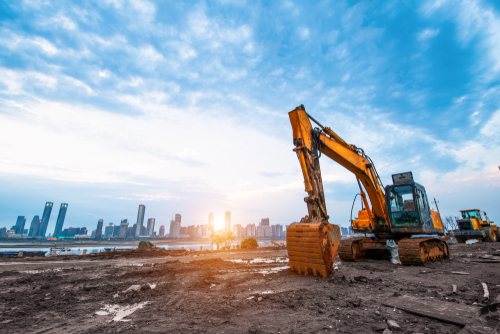 The use of construction equipment is an expected duty when working in the construction industry. Heavy machinery and other equipment can help construction workers do their job efficiently. However, when the equipment malfunctions or the employee isn't properly trained, they may be at risk of injury.
The Most Common Causes of Construction Accident Injuries
Construction workers are at risk of all types of injuries, especially when using certain types of heavy machinery. Here are a few of the most common:
Bulldozers
Cherry pickers
Backhoes
Dump trucks
Forklifts
Excavators
Loaders
Trenchers
Of course, this isn't a complete list. Construction workers are injured on all types of construction equipment. These accidents may lead to broken bones, internal bleeding, head and neck injuries, or even a disability.
Common Causes of Construction Accident Injuries
Just as there is a long list of construction equipment injuries, there are many potential causes. A few of the most common include:
Backing up equipment and failing to look behind them
Dropping a heavy load
Not implementing the proper fall precautions
Crashes with other equipment
Heavy objects falling from high shelves that aren't loaded properly
Improper use of equipment, due to lack of training
Failure to maintain construction equipment
Failure to make necessary repairs of equipment
Some construction equipment accidents are truly a mistake. Others, however, may be due to negligence. If the construction company fails to properly train its employees on the use of the equipment, they may be at fault. If the employee uses equipment in which they have not trained or received the necessary certifications, they may be at fault.
Additionally, certain people are tasked with maintaining construction equipment, which means all maintenance and repairs. If the company is aware of problems with the equipment but fails to repair them, or notify employees, then they could be to blame.
How to Handle Construction Accidents in New Jersey
If you're injured while on the job in New Jersey, do you know what to do? You might expect that your employer, or workers' compensation, will cover your costs. However, this isn't always true. Additionally, based on New Jersey's laws, you are required to follow certain rules to ensure you maintain your workers' compensation eligibility.
This includes things like notifying your employer of the accident and your injury as soon as possible. It also means cooperating with your physician.
Denied Your Legal Rights?
If you were injured while on the job, and your employer is denying your coverage, you may have other legal rights available. There are many reasons why you may be denied workers' compensation benefits.
Sometimes it's a simple mistake, such as not submitting the right documents. Other times, your employer may try to place blame on you. In this case, it's necessary to collect evidence and find out what happened. This may require witnesses, as well as expert statements. If you were injured while working in the construction industry, we encourage you to reach out and discuss the details of your case with a lawyer.
Contact a Woodbridge Workers' Compensation Lawyer to Discuss Your New Jersey Workplace Injury Case
A workplace injury can be devastating, particularly if it prevents you from returning to work for an extended period of time. Although New Jersey Workers' Compensation laws are supposed to provide you with reimbursement for medical expenses and replacement pay for missed time at work, it is not always easy to get the Workers' Comp benefits you deserve. That is why you should speak with a knowledgeable Workers' Compensation lawyer about your situation and get guidance throughout the claims process. The experienced Workers' Compensation attorneys at Rudnick, Addonizio, Pappa & Casazza PC represent clients in Howell, Freehold, Woodbridge, Edison, and all across New Jersey. Call (732) 264-4400 or fill out our online contact form today to schedule a free consultation about your work injury case. Our main office is located at Park Village, 25 Village Court Highway, #35 Hazlet, NJ 07730, and we also have an office in East Brunswick, NJ.
The articles on this blog are for informative purposes only and are no substitute for legal advice or an attorney-client relationship. If you are seeking legal advice, please contact our law firm directly.