N.J. Woman Convicted of Vehicular Homicide Caused While Texting Behind the Wheel
December 5, 2019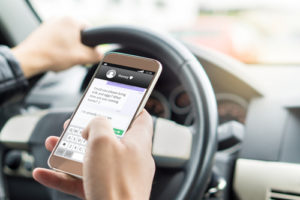 Fatal Distracted Driving Accident
On Friday November 22, 2019, a Monmouth County jury returned a verdict convicting Alexandra Mansonet, 50, of the vehicular homicide of Yuwen Wang, then 39 years old, in a motor vehicle accident that occurred on September 28, 2016.
Pedestrian Killed in Rear-End Collision
Wang, who was crossing the street while out on a walk during a break from work, was struck by a vehicle that had been rear-ended by Mansonet. Mansonet was traveling southbound on Laurel Avenue toward Sixth Street in Hazlet. The force of the impact from Mansonet's car knocked the other vehicle, which was stopped, into Wang as she crossed the street. Wang later died at a local hospital from the injuries she suffered in the accident.
Driver Charged with Vehicular Homicide
Mansonet was later charged with vehicular homicide for Wang's death. Mansonet had allowed investigators to search her cell phone following the accident. Prosecutors alleged that Mansonet was distracted in the moments leading up to the accident by a text she had received from a family member to discuss dinner plans. Prosecutors claimed that Mansonet did not engage her brakes to stop or avoid colliding with the vehicle in front of her.

In her testimony at trial, Mansonet denied that she was responding to a text in the moments leading up to the accident; Mansonet claimed that she had read the text before leaving for work. Instead, Mansonet testified that she had been turning off her windshield wipers and turning on the front defroster when she looked up, too late to stop or avoid rear-ending the car in front of her.
Jury Convicts Driver for Texting-While-Driving
The jury ultimately returned a verdict finding Mansonet guilty of vehicular homicide for Wang's death. Mansonet now faces a sentence of up to 10 years for her conviction.

The jury's verdict in this case should also serve as a warning that drivers who cause accidents by texting and driving can be held legally responsible for their conduct. If a driver can be held criminally liable for serious injury or death arising from an accident caused by the driver texting behind the wheel, then a driver should also be found negligent in a civil suit for personal injury or wrongful death arising from a distracted driving accident.
If you or a loved one have been involved in a motor vehicle accident that you believe was caused by a texting driver, it is important that you speak with an experienced motor vehicle accident attorney who can help protect your rights. It may be possible to secure evidence that a driver was using his or her cell phone in the moments before an accident, such as call or text logs. Proof that a driver was texting and driving can be strong evidence of his or her negligence in a civil suit for personal injuries or wrongful death.
Contact a Hazlet Personal Injury Lawyer to Discuss Your Motor Vehicle Accident Case in New Jersey
Did you or a loved one sustain serious injuries due to a motor vehicle accident in New Jersey? Don't let the medical bills pile up while you wait for the negligent party or their insurance company to do the right thing. Right now, you need an aggressive personal injury attorney on your side, fighting to get you the compensation you need, want, and deserve. The skilled attorneys at Rudnick, Addonizio, Pappa & Casazza PC represent clients injured because of motor vehicle accidents in Middletown, Howell, Marlboro, Manalapan, and throughout New Jersey. Call (732) 264-4400 or fill out our online contact form to schedule a consultation about your case. We have an office conveniently located at 25 Village Ct., Hazlet, NJ 07730, as well as offices in East Brunswick.

The articles on this blog are for informative purposes only and are no substitute for legal advice or an attorney-client relationship. If you are seeking legal advice, please contact our law firm directly.