Multi-Vehicle Car Accident – What Happens Afterwards?
November 10, 2019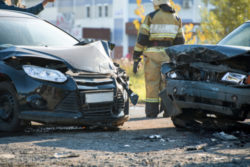 What to do After a Multi-Vehicle Crash
Being in a car accident can be confusing and overwhelming. It can be very confusing as you determine the right steps to take and who to call to report the accident. Being in a multi-vehicle car accident can complicate the process even more. It may not be as clear as to who is at fault. You might not know which insurance company to call or who owes who you compensation for your injuries. Either way, it is important to understand the appropriate steps to take following a multi-vehicle car accident in New Jersey.
Identifying Liability in a Woodbridge Multi-Vehicle Car Accident
Although it is not always easy to identify who is at fault when a multi-vehicle car accident occurs, there is usually at least one party that is to blame. Many multi-vehicle car accidents are the result of a chain reaction. If multiple cars rear-ended each other, it is usually the driver that first rear-ended the car in front of them that is at fault.

However, it is important to note that there can also be more than one party at fault in a multi-vehicle car accident. For example, if a distracted driver was the initial cause of the accident because they were texting while driving and caused other drivers to rear-end the car in front of them, it could be argued that they were following too closely.

Liability can come from any of the following causes:

Driving under the influence
Failure to follow local laws and street signs
Improper maintenance of vehicle
Improper maintenance of roads
Aggressive driving
Even if a driver was not the initial cause of the accident, they may be liable for their part in the car accident. This is what makes multi-car accidents so complicated. Each crash requires its own investigation and identification of liability.
Important Steps to Take Following a New Brunswick Multi-Vehicle Car Accident
If you are involved in a multi-vehicle car accident, you will want to follow these important steps:

Check on the safety of everyone involved: Ensure that emergency care is called and that vehicles are out of the way of harm.
File a police report: A police report can become an important part of your case later on.
Notify your insurance company: Many insurance companies require that you notify them within a set period of time. You will want to inform them that you were in an accident without claiming any liability or determining who was at fault.
Begin gathering evidence: Evidence like photographs, witness statements, and any other details may help to identify liability later on.
Discuss your case with a car accident legal team: Multi-vehicle car accidents can get very complicated. Each driver will attempt to minimize their liability while looking out for themselves. You might have multiple insurance companies calling you, asking questions, and attempting to point blame. It is important that you have an experienced car accident lawyer to represent you.
How We Assist You With Your Multi-Vehicle Car Accident Legal Case
Working with Rudnick, Addonizio, Pappa & Casazza PC, you can expect us to assist you throughout the entire legal process. We will manage all communications with insurance companies and begin building your case immediately. We will assist you in collecting the necessary evidence to determine liability and collect the compensation that you deserve to deal with any injuries or property damages.
Contact a Long Branch Personal Injury Lawyer to Discuss Your Multi-Vehicle Car Accident Case in New Jersey
Did you or a loved one sustain serious injuries due to a multi-vehicle car accident in New Jersey? Don't let the medical bills pile up while you wait for the negligent party or their insurance company to do the right thing. Right now, you need an aggressive personal injury attorney on your side, fighting to get you the compensation you need, want, and deserve. The skilled attorneys at Rudnick, Addonizio, Pappa & Casazza PC represent clients injured because of a multi-vehicle car accident in Howell, Freehold, Edison, Perth Amboy, and throughout New Jersey. Call (732) 264-4400 or fill out our online contact form to schedule a consultation about your case. We have an office conveniently located at 25 Village Court Highway, #35 Hazlet, NJ, 07730, as well as an office in East Brunswick.

The articles on this blog are for informative purposes only and are no substitute for legal advice or an attorney-client relationship. If you are seeking legal advice, please contact our law firm directly.