How to Fight a Restraining Order in New Jersey
February 15, 2021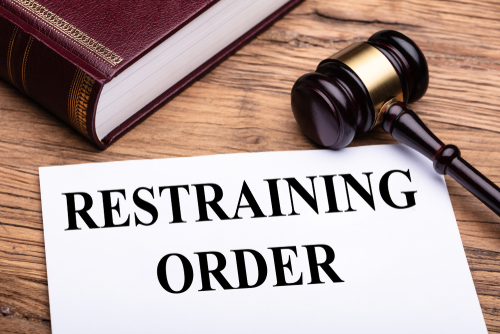 If you've been served with a temporary restraining order in New Jersey, you need to act quickly to protect yourself from the entry of a final restraining order. Both temporary and restraining orders can severely impact your rights and interests, including removing you from your home, restricting your access to your children, requiring you to surrender weapons you own, and preventing you from going certain places. An experienced criminal defense attorney can help you.
Restraining Orders Are Easily Obtained in New Jersey
In New Jersey, a temporary restraining order is a court order issued in response to alleged domestic violence. Temporary restraining orders generally prohibit the subject of the order from having any contact with the alleged victim.
Once the TRO is issued, the court will schedule a hearing within 10 days at which both the alleged perpetrator and alleged victim may present testimony and evidence and cross-examine the other party's case, before the court will decide whether to impose a final restraining order. A final restraining order is normally effective for one year but can be extended thereafter.
Restrictions Imposed by Restraining Orders
In temporary or final restraining orders, courts may impose conditions and restrictions relevant to the circumstances of the particular case, including:
Preventing the defendant from going to certain places, such as the alleged victim's home or place of work
Preventing the defendant from contacting (including via phone, email, or text) the alleged victim or the alleged victim's family members or friends
Requiring the defendant to vacate a residence they share with the alleged victim
Requiring the defendant to relinquish custody of their children, or requiring the defendant to pay temporary child support
Requiring the defendant to reimburse the alleged victim for medical expenses incurred to treat injuries allegedly caused by domestic violence
Requiring the defendant to surrender any weapons in the defendant's possession, or barring the defendant from purchasing or acquiring any weapons
Consequences of Violating a Restraining Order
If you violate a temporary or final restraining order entered against you, you may be charged with contempt, which is a fourth-degree indictable offense in New Jersey. Conviction for contempt can result in a sentence of up to 18 months in jail and a fine of up to $10,000.
You can also be charged with any criminal acts committed in the course of violating a restraining order, such as stalking, harassment, or assault. Violating a TRO will certainly factor into the court's decision whether to issue a FRO, while violating a FRO can give the court cause to extend the order.
How to Fight Against the Entry of a Final Restraining Order
While a TRO can be automatically obtained by alleging domestic violence, a person seeking a final restraining order must prove certain elements in court:
The defendant committed an act of domestic violence under New Jersey law against the plaintiff, or the defendant has a history of domestic violence against the plaintiff
A FRO is reasonably necessary for the plaintiff's protection — usually this requires showing that plaintiff has a reasonable fear the defendant will commit future acts of domestic violence
It may be possible to challenge or avoid the entry of a FRO or the imposition of highly restrictive conditions in a FRO, including by:
Highlighting discrepancies between the plaintiff's testimony in court and the initial allegations in the domestic violence complaint
Presenting evidence and witnesses that contradict the plaintiff's allegations
Demonstrating that the plaintiff does not reasonably fear future domestic violence, or that conditions do not warrant the need for a FRO
Demonstrating remorse and agreeing to certain conditions, such as seeking mental health treatment, drug abuse treatment, or anger management counseling
Contact an Experienced Hazlet Criminal Defense Lawyer About Your Domestic Violence Charges in New Jersey
Were you arrested or charged with domestic violence in New Jersey? The consequences of a conviction could be severe, leaving you with a permanent criminal record and possibly even sending you to jail. That is why you need to speak with a qualified criminal defense attorney as soon as possible about your case. The attorneys at Rudnick, Adonizio, Pappa & Casazza PC have successfully represented clients charged with domestic violence in Middletown, Howell, Marlboro, Manalapan, and throughout New Jersey. Call (732) 264-4400 or fill out the online contact form to schedule a consultation with a member of our legal team. We have an office conveniently located at 25 Village Ct., Hazlet, NJ 07730, as well as offices located in East Brunswick.
The articles on this blog are for informative purposes only and are no substitute for legal advice or an attorney-client relationship. If you are seeking legal advice, please contact our law firm directly.