What Does a Criminal Defense Lawyer Do?
July 24, 2019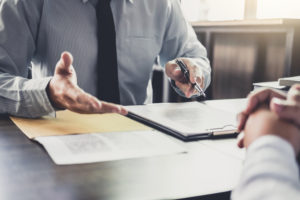 Criminal Defense Overview
A criminal defense lawyer works with clients who have been charged with a criminal crime. Criminal offenses often carry more severe of charges including expensive fines, felony records, and even jail time. For this reason, it is important to choose a criminal defense lawyer that is familiar with New Jersey laws regarding criminal charges and plea bargains.
Types of Criminal Offenses
The exact tasks of a criminal defense lawyer will vary with each case. The specific charges of the client will really determine the legal steps taken. Criminal charges might include:

There are also other important factors to consider when faced with criminal charges including the age of the defendant, the defendant's previous record, and the exact details of the charge.
Important Tasks of a Hazlet Criminal Defense Lawyer
Although the tasks of a criminal defense lawyer vary from day to day, these are some of the tasks you can expect your lawyer to complete:
Initial consultation
The initial consultation may be arranged by the defendant or the criminal defense lawyer may be assigned to a defendant as a public defender. During this initial meeting, the lawyer will collect important details about the case and begin to build a defense.
Collect Evidence
After your criminal defense lawyer has learned about your case, then they will begin to collect important evidence. This might include the police record, witness statements, or even medical records. During this time, the lawyer will also evaluate the prosecutor's case while looking for any inaccuracies or inconsistent information.
Build Your Defense
After your criminal defense lawyer has collected all of the necessary information that pertains to your case, then they will begin to build your defense. Even if you are guilty of the crime, the defense lawyer may work on a reduced sentence that can mean less jail time or less of an impact on your record in lieu of community service or counseling services.
Participate in Jury Selection
Criminal cases are tried in front of a jury. Your criminal defense lawyer will participate in the selection of the jury members. They will have the ability to dismiss any jury members who might hold biases or previous judgments about your case.
Negotiate Plea Bargains
Some criminal cases will never make it to trial. The prosecutor may offer a plea bargain in order to avoid a lengthy and costly trial. Your criminal defense lawyer will communicate with you and the prosecutor to come to a plea bargain that works for all parties. If a plea bargain is not reached, then the criminal case will go to trial.

Your criminal defense lawyer will remain with you from the initial consultation to the sentencing. They play a direct role in your case, meaning it is important to choose a lawyer that will fight for your rights.
Contact an Experienced Perth Amboy Criminal Defense Lawyer About Your Criminal Charges in New Jersey
Were you arrested or charged with criminal charges in New Jersey? The consequences of a conviction could be severe, leaving you with a permanent criminal record and possibly even sending you to jail. That is why you need to speak with a qualified criminal defense attorney as soon as possible about your case. The attorneys at Rudnick, Addonizio, Pappa & Casazza have successfully represented clients charged with criminal charges in Piscataway, New Brunswick, Perth Amboy, East Brunswick and throughout New Jersey. Call 866-567-0135 or fill out the online contact form to schedule a consultation with a member of our legal team. We have an office conveniently located at 25 Village Ct, Hazlet, NJ 07730 as well as an office located in East Brunswick.

The articles on this blog are for informative purposes only and are no substitute for legal advice or an attorney-client relationship. If you are seeking legal advice, please contact our law firm directly.