How Sleep Apnea Can Cause Car Accidents
January 5, 2022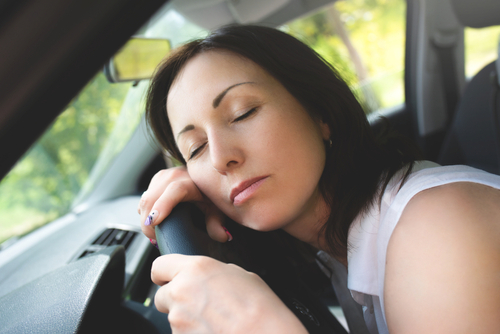 Falling asleep while driving can easily lead to a car accident. Numerous studies have even shown that driving while fatigued is similar, in many ways, to driving while under the influence. Falling asleep at the wheel, or driving while overly tired, is dangerous, and is often considered to be an act of negligence.
What is Sleep Apnea?
Sleep apnea is a medical condition that affects your breathing while you're asleep. It's estimated that as many as 50-70 million people in the United States have sleep apnea. The problem with sleep apnea is that it doesn't just affect you when sleeping; the poor quality of sleep can also affect your daily routine.
The inability to get good sleep at night can lead to headaches, irritability, trouble concentrating, and difficulty staying awake the next day. This can lead to people with sleep apnea having a higher risk of motor vehicle accidents. If you don't sleep well the night before and have to get behind the wheel to drive to work the next morning, your fatigue can reduce your distraction time and increase your risk of being in an accident.
Some people with sleep apnea may also try to improve their sleep by using sleeping pills. The use of these pills can not only make you overly tired and make it dangerous to drive, but they can also leave you feeling tired and groggy the morning after.
How to Ensure Safe Driving When You Have Sleep Apnea
You're probably already aware that sleep apnea has many effects on your life, so you may be wondering what you can do about it. Studies show that people who have sleep apnea, and who receive treatment, can significantly decrease their chances of being in an accident. Monitoring your sleep apnea symptoms and condition may not only be important for your overall health but also your driving risks.
You can also take other steps to be safer when driving, including:
Avoid drinking and driving: Drinking and driving is dangerous, regardless of your medical history. However, if you're also dealing with a condition like sleep apnea, adding alcohol drinks into the equation can make it an even more dangerous situation.
Avoid texting and driving: Texting and driving have also been compared to driving under the influence. Texting is a distraction and adding it to fatigued driving makes it more problematic.
Know when to pull over: Pulling over and resting for a few moments is important when driving. Learn your limits and know when it's time to rest.
Consider other transportation: If you have a bad night of sleeping, it may be better to call into work, or to find other transportation.
Taking certain precautions can help reduce your chances of being in an accident when you have a condition like sleep apnea. Sleep apnea is also different from driving while fatigued, which may be considered negligence. With a fine line between the two, it's important to take safety precautions to protect yourself not only from being in an accident but also from legal charges.
Contact a Howell Personal Injury Lawyer to Discuss Your Car Accident Case in New Jersey
Did you or a loved one sustain serious injuries due to a car accident in New Jersey? Don't let the medical bills pile up while you wait for the negligent party or their insurance company to do the right thing. Right now, you need an aggressive personal injury attorney on your side, fighting to get you the compensation you need, want, and deserve. The skilled attorneys at Rudnick, Addonizio, Pappa & Casazza PC represent clients injured because of an accident in Middletown, Howell, Marlboro, Manalapan, and throughout New Jersey. Call (732) 264-4400 or fill out our online contact form to schedule a free consultation about your case. We have an office conveniently located at Park Village, 25 Village Court Highway, #35 Hazlet, NJ 07730, as well as an office in East Brunswick, NJ.
The articles on this blog are for informative purposes only and are no substitute for legal advice or an attorney-client relationship. If you are seeking legal advice, please contact our law firm directly.