Everything You Need to Know About Accident Injuries
August 23, 2019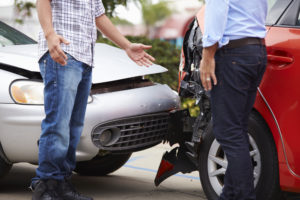 Overview of New Jersey Car Accidents
Car accidents can change your life in an instant.

Across the globe, an overwhelming average of 3,287 people are fatally injured in motor vehicle accidents every day. An additional 20 to 50 million suffer serious injuries or are permanently disabled in these collisions. What are the most common types of injuries car accident victims suffer? We'll get into that below.

Common Car Accident Injuries
Car accident injuries range in severity depending on the circumstances surrounding your collision. Keep in mind that just because an accident is minor that doesn't mean the injuries will be minor. Here's a brief overview of the most commonly reported injuries that car crash victims sustain:

Back and neck injuries (whiplash, muscle strain, disc injury, cervical radiculopathy)
Injuries to the back (strain, sprain, disc injury, fracture)
Penetration injuries (cuts, lacerations)
Brain and head injuries (concussions, traumatic brain injuries)
Emotional and psychological damage (emotional stress, PTSD)
Many of these injuries have delayed symptoms, which means you might not immediately realize you are injured after the collision. That's why it's so crucial to have a full medical examination not to long after being involved in an accident. At times, even minor accidents can cause major injuries. Don't ever make the mistake of refusing medical treatment if you're involved in a motor vehicle accident.

What Factors Determine the Severity of Car Accident Injuries?
There are a few factors that can impact the severity of your injuries after a crash. These factors include:

Whether the victim was wearing a seat belt
The speed both vehicles were going
What part of the vehicle was struck (rear, front or side)
Were the airbags deployed?
What Should I Do?
Seek out a doctor's advice right away. Always schedule an appointment or visit the emergency room after an accident. If you do discover that you've been injured, then it's important to begin a treatment plan right away. You will likely incur medical bills and possibly miss time off of work. If another driver's negligence caused your crash, then you may be able to seek out financial compensation for your losses. Seek out a car accident attorney's advice for more information about your legal options.

Contact a Middletown Personal Injury Lawyer to Discuss Your Car Accident Injury Case in New Jersey
Did you or a loved one sustain serious injuries due to a car accident in New Jersey? Don't let the medical bills pile up while you wait for the negligent party or their insurance company to do the right thing. Right now, you need an aggressive personal injury attorney on your side, fighting to get you the compensation you need, want, and deserve. The skilled attorneys at Rudnick, Addonizio, Pappa & Casazza PC represent clients injured because of a car accident in East Brunswick, Hazlet, Middletown, Monroe, Keyport, Union Beach, Holmdel, Atlantic Highlands, and throughout New Jersey. Call 866-567-0135 or email us to schedule a consultation about your case. We have an office conveniently located at 197 State Route 18, South Suite 3000 East Brunswick, NJ 08816 as well as offices located in Hazlet.

The articles on this blog are for informative purposes only and are no substitute for legal advice or an attorney-client relationship. If you are seeking legal advice, please contact our law firm directly.