Cell Phone Use, Negligence and Car Accidents
February 6, 2019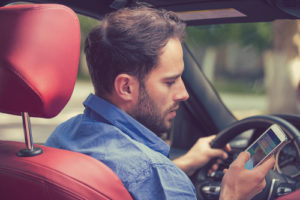 Technological advancements over the past several decades have been invaluable to modern-day society, but the rapid increase in cell phone use also has the potential for disaster. Increasingly, more adults are attempting to utilize their cell phones while driving, and this behavior has repeatedly been shown to have disastrous consequences. In response, legislation has been passed in many states that prohibits cell phone use while behind the steering wheel.
Does Cell Phone Use Amount to Negligence?
When you get behind the wheel of a motor vehicle, you are expected to remain vigilant of other motorists, pedestrians and road hazards. If you breach your duty of reasonably caring for the safety of other drivers, then you can be held legally and financially responsible for the physical injuries, financial losses and property damages associated with an accident. In recent times, courtrooms have increasingly decided that cell-phone use while driving does amount to negligence. Phone use while driving can cause carelessness such as:
Looking away from the road
Failing to notice the car in front of you breaking
Driving with only one hand
Failure to stay in your lane
Holding up traffic by failing to notice a changing light
Crashing into side-rails or running off the roadway
Excessively speeding
Running stop signs or other moving violations
When an Employee is on the Phone while Driving
If an employee is both driving and taking a work-related phone call, then the employer might be held liable for any damages involved with an accident. Similarly, the employer may be held liable when an employee attempts to send a work-related text message while driving. Most employers have a strict no-phone policy while employees are driving for this reason.
Teenagers and Cell Phone Use
Younger drivers are some of the most likely drivers to be on their phones while driving. It's important for young adults to understand that searching their phones for music, utilizing their smartphones for GPS directions or any other activity on their phones is extremely dangerous. Because of the susceptibility of younger drivers to use technology, some states have even more stringent cell-phone restrictions for novice drivers. In some situations, the teenager or young adult's parents have been held liable for accidents involving phone use.
Contact a Hazlet Personal Injury Lawyer to Discuss Your Distracted Driving Accident Case in New Jersey
Did you or a loved one sustain serious injuries due to a texting and driving accident in New Jersey? Don't let the medical bills pile up while you wait for the negligent party or their insurance company to do the right thing. Right now, you need an aggressive personal injury attorney on your side, fighting to get you the compensation you need, want, and deserve. The skilled attorneys at Rudnick, Addonizio, Pappa & Casazza represent clients injured because of a distracted driving in Middletown, Howell, Marlboro, Manalapan and throughout New Jersey. Call 732-264-4400 or email us to schedule a consultation about your case. We have an office conveniently located at Park Village, 25 Village Court Highway #35 Hazlet, NJ 07730 as well as offices in East Brunswick. 
The articles on this blog are for informative purposes only and are no substitute for legal advice or an attorney-client relationship. If you are seeking legal advice, please contact our law firm directly.