What's Aggravated Assault?
April 15, 2020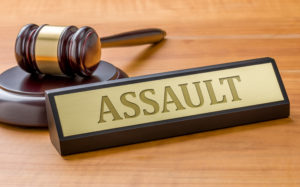 The current coronavirus quarantine situation has us all on edge. As our patient runs thin and tempers run short, police departments around the nation are noticing an uptick in crimes like domestic violence, assault and aggravated assault.
If you find yourself facing charges, then it's crucial to understand what aggravated assault means for you and your future. In New Jersey, this crime is taken very seriously. It's also important to start strategizing a solid defense as soon as possible.
Assault Versus Aggravated Assault
The law in New Jersey defines assault as threats or attempts to hurt another person. When the assault is more serious, it's considered aggravated assault. This distinction is important because aggravated assault charges almost always result in jail time. Here are a few factors that could lead to an aggravated assault charge:
You knowingly and purposely cause or try to cause serious bodily injury to someone else
You caused or attempted to cause bodily injury with a deadly weapon
The victim was a law enforcement officer, fireman, EMT or other public employee attempting to do their job
You knowingly pointed a deadly weapon at another person
The assault occurred while you were attempting to elude police or commit a theft
Knowingly showing indifference to the value of human life
Knowingly pointing a deadly weapon at an officer
Using a laser sighting system
Aggravated assault in New Jersey is charged as either a second, third or fourth-degree crime. If your charge is a fourth-degree crime, then you could face up to 18 months in jail. A second-degree crime could lead to a five to ten-year prison sentence.
Related blog: Understanding violent crimes and what to do when accused of them
How to Defend Yourself Against Aggravated Assault Charges in NJ
The penalties for aggravated assault are severe, so it's advised you use your right to hire an attorney if you find yourself in this type of situation. The most common defense arguments for aggravated assault charges are:
Self-defense
Defending one's property
Mistake of fact
Lack of intent
The defense strategies available to you greatly depend on the circumstances surrounding the incident, your arrest and the evidence the police have against you. You and your attorney will discuss the specifics of your case and come up with a strategy together.
Want more information on the potential defenses to crimes? Click the link to learn more.
Contact an Experienced East Brunswick Criminal Defense Lawyer About Your Aggravated Assault Charges
Were you arrested or charged with aggravated assault in New Jersey? The consequences of a conviction could be severe, leaving you with a permanent criminal record and possibly even sending you to jail. That is why you need to speak with a qualified criminal defense attorney as soon as possible about your case. The attorneys at Rudnick, Addonizio, Pappa & Casazza PC have successfully represented clients charged with aggravated assault in Keyport, Union Beach, Holmdel, Atlantic Highlands, and throughout New Jersey. Call 866-567-0135 or fill out the online contact form to schedule a consultation with a member of our legal team. We have an office conveniently located at 197 State Route 18 South, Suite 3000, East Brunswick, as well as offices in Hazlet.
The articles on this blog are for informative purposes only and are no substitute for legal advice or an attorney-client relationship. If you are seeking legal advice, please contact our law firm directly.