What Is the Penalty for Texting and Driving in New Jersey?
June 12, 2020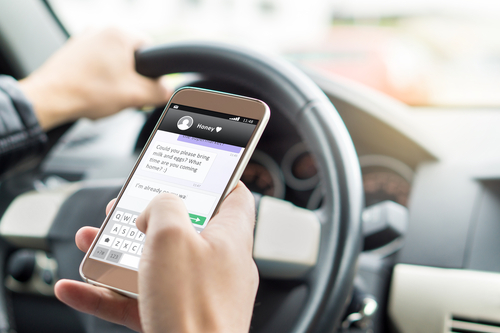 New Jersey law prohibits drivers from using handheld devices such as cell phones while actively driving, whether for texting, emailing, or making phone calls. Using a cell phone while operating a vehicle that is moving means that the driver is distracted and poses a risk of causing an accident that can injure other motorists and passengers, bicyclists, or pedestrians. Of all the cell phone uses, texting arguably requires the greatest amount of visual, cognitive, and manual attention, making texting and driving the most dangerous kind of distracted driving. If you must use a cell phone to communicate, you should use a headset, the speakerphone function, or your vehicle's Bluetooth audio functions to make calls or receive and write texts. 
If you are someone who texts while driving, you should know the penalties that New Jersey law imposes for texting and driving.
New Jersey's Driving-and-Texting Laws
In New Jersey, texting and driving is considered a "primary" offense. That means a police officer can pull you over simply because he or she witnessed you use your cell phone in your hands while driving; the officer does not need to witness you commit any other traffic code violations. Thus, even having a cell phone in your hands can lead to you getting pulled over and subjected to the penalties for texting and driving.
Penalties If an Accident Occurs
The penalties for a ticket for texting and driving in New Jersey are as follows:
First offense: Fine of $200 to $400
Second offense: Fine of $400 to $600
Third and subsequent offenses: Fine of $600 to $800, three points on your license, and potential 90-day suspension of your license

These fines do not include any court costs that may be imposed.

However, if you get into an accident while texting and driving that results in injury or death, you may face being charged with an indictable offense, which is New Jersey's version of a felony. A conviction for texting and driving resulting in an accident that causes injury to someone can lead to a sentence of six to 18 months in jail and up to a $10,000 fine, in addition to court costs and fees.

If the accident results in someone's death, you may be charged with vehicular homicide. A conviction for vehicular homicide carries a sentence of five to ten years in prison and a fine of up to $150,000.

In addition to being cited or criminal charged for texting and driving, the fact that you were using your cell phone to text while driving in the moments leading up to an accident can also subject you to civil liability, as your texting and driving may be used as evidence to prove your negligence in a motor vehicle accident tort case. If you are held liable for an accident, you may have to compensate the other parties involved for their injuries and damages, including for costs of medical treatment, lost wages and income, lost earning capacity, pain and suffering, and other out-of-pocket costs and non-economic damages.
Contact an Experienced Hazlet Criminal Defense Lawyer About Your Texting and Driving Charges in New Jersey
Were you arrested or charged with texting and driving in New Jersey? The consequences of a conviction could be severe, leaving you with a permanent criminal record and possibly even sending you to jail. That is why you need to speak with a qualified criminal defense attorney as soon as possible about your case. The attorneys at Rudnick, Addonizio, Pappa & Casazza PC have successfully represented clients charged with texting and driving in Middletown, Howell, Marlboro, Manalapan, and throughout New Jersey. Call (732) 264-4400 or fill out the online contact form to schedule a consultation with a member of our legal team. We have an office conveniently located at Park Village, 25 Village Court Highway, #35, Hazlet, NJ 07730, as well as offices located in East Brunswick.
The articles on this blog are for informative purposes only and are no substitute for legal advice or an attorney-client relationship. If you are seeking legal advice, please contact our law firm directly.