Most Common Traffic Violations and Fines in New Jersey
January 5, 2023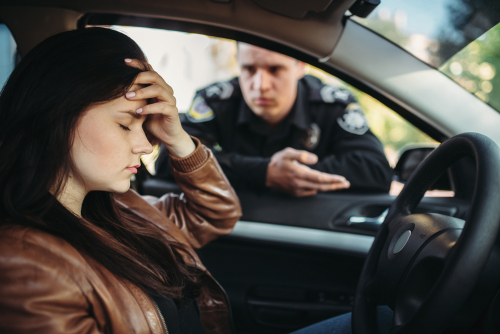 A traffic violation is more than a minor inconvenience on your way into work. It can also lead to expensive fines, as well as points on your driver's license. You can expect the following fines for some of the most common traffic violations in New Jersey:
Driving or Parking an Unregistered Motor Vehicle
Code: 39:3-4
Fine: $54
New Jersey law requires that you register all vehicles that you drive or park. You may also be charged with a failure to notify a change of name ($55 fine) or to endorse your driver's license ($55 fine).
Driving With an Expired License
Code: 39:3-10
Fine: $54
Driving with an expired license is also illegal and subject to fines in New Jersey courts. You may also be charged with violating a restricted or conditional license ($55 fine) or failing to possess a driver's license or registration ($180 fine).
Failure to Wear a Seatbelt
Code: 39:3-76.2f
Fine: $46
Wearing a seatbelt is a requirement by law in New Jersey. You could also be charged with a failure to use a child passenger restraint if you have a child under eight years who weighs less than 80 pounds ($54 fine).
Reckless Driving
Code: 39:4-96
Fine: Varies.
Reckless driving is the behavior of driving in a way that is unsafe. It may include a variety of other charges, including speeding or following too closely.
Careless Driving With No Accident
Code: 39:4-96
Fine: Varies
A lot of times, reckless or careless driving charges vary, depending on the outcome of the dangerous behavior. Drivers who are charged with careless driving that did not cause an accident may receive fines and points that are less than if their driving had caused an accident. It's usually up to the judge to determine the associated fines.
Speeding
Code: 39:4-98
Fine: Varies
A lot goes into determining the potential consequences of speeding. One of the biggest factors is how fast the driver was actually going:
Speeding of 1-9 mph over the speed limit: $85 fine
Speeding of 10-14 mph over the speed limit: $95 fine
Speeding of 15-19 mph over the speed limit: $180 fine
Speeding that exceeds the limit by 20-24 mph: $200 fine
Speeding fines may go up to excessive speeding of up to 39 mph over the speed limit. This leads to points, expensive fines, and the potential for a suspended license.
New Jersey law not only requires that you have proof of license and registration at all times, but that your vehicle is also in good working condition. It's also important to note that these fines may also be in addition to points. Driver's license points can add up, leading to an increase in insurance rates.
What Are Your Options Following a Traffic Violation?
You have a few options following a traffic violation. You may choose to accept the points and pay the ticket. You may also choose to fight the ticket in court. Depending on the charges, it may be worth it to discuss your case with an experienced traffic violation lawyer.
Contact an Edison Traffic Violation Lawyer to Discuss Your Ticket in New Jersey
Did you wrongfully receive a traffic violation in New Jersey? Don't let the legal costs pile up if you don't agree with the charge. Right now, you need a lawyer on your side, helping you understand your options. The skilled attorneys at Rudnick, Addonizio, Pappa & Casazza PC represent clients with traffic violations in Long Branch, Old Bridge, Woodbridge, Edison, and throughout New Jersey. Call (732) 264-4400 or fill out our online contact form to schedule a free consultation about your case. We have an office conveniently located at Park Village, 25 Village Court Highway, #35 Hazlet, NJ 07730, as well as an office in East Brunswick, NJ.
The articles on this blog are for informative purposes only and are no substitute for legal advice or an attorney-client relationship. If you are seeking legal advice, please contact our law firm directly.