I've Falsely Been Accused of a Crime. Can I Sue for Defamation?
April 20, 2022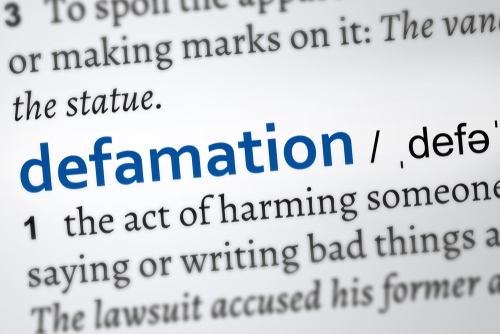 Being charged with a crime you didn't commit can be scary. In addition to the potential of expensive fines and jail time, even the simple accusation of a crime can have negative consequences. This may lead to you wondering if you can sue for defamation, especially when your job is affected.
What is Defamation?
Defamation is the behavior of damaging someone's reputation. If you're wrongly accused of a crime, it's possible that the accusation could damage your reputation. Your family, friends, neighbors, and coworkers may look at you differently, even long after you're found innocent in a court of law.
Defamation typically includes slander or libel. Slander and libel may be similar in nature but are used differently in law. Both are types of defamatory statements, but slander is typically oral and libel is written. Some believe that libel can be worse because once it's written, or published, it can have a permanent effect on your reputation.
Is It Worth it to Pursue a Case of Defamation?
A defamation case isn't easy to win and often requires legal representation. This doesn't mean that it's not worth pursuing a case of defamation. There may be more worthwhile options before filing a case. For example, you may decide to take the case to a small claims court where you can seek monetary compensation. With enough proof, a settlement offer may be a possibility.
It's still a good idea to work with a defamation lawyer to help you build your case. A defamation lawyer can also be a valuable resource in negotiating a settlement offer. It's important to consider the settlement offer in regards to the total damages plus the cost of taking a defamation case to court. The proof is an important part of a defamation case. It's not typically possible to win based on a rumor. However, proof of a loss of income or job opportunity may be enough to prove defamation.
Navigating Criminal Charges with Defamation
One of the biggest challenges of pursuing a defamation case is that the first step is to prove innocence and clear your name. It's not likely that you'll win a defamation case until you prove that you're not guilty of the charges you're dealing with. The potential consequences of a criminal charge are significant, often leading to expensive fines and jail time.
Depending on the charges, it may also affect your current and future career opportunities. It can be helpful to work with a criminal defense lawyer to build your legal defense. Once you prove your case and you're found innocent, you can rely on the knowledge of your criminal defense lawyer to help you seek defamation charges or to file a case through civil court. 
While many lawyers tend to specialize in a specific area of law, your criminal defense lawyer can guide you on how to find the best resources for a defamation case. If you're wrongly accused of a criminal charge, one of the most important steps you should take before anything else is to contact a defense lawyer.
Contact an Experienced East Brunswick Criminal Defense Lawyer About Your Criminal Charges Charges in New Jersey
Were you arrested or charged with a crime in New Jersey? The consequences of a conviction could be severe, leaving you with a permanent criminal record and possibly even sending you to jail. That is why you need to speak with a qualified criminal defense attorney as soon as possible about your case. The attorneys at Rudnick, Addonizio, Pappa & Casazza PC have successfully represented clients charged with criminal charges in East Brunswick, Piscataway, Old Bridge, Woodbridge, and throughout New Jersey. Call (732) 264-4400 or fill out our online contact form to schedule a free consultation about your case. We have an office conveniently located at Park Village, 25 Village Court Highway, #35 Hazlet, NJ 07730, as well as an office in East Brunswick, NJ.
The articles on this blog are for informative purposes only and are no substitute for legal advice or an attorney-client relationship. If you are seeking legal advice, please contact our law firm directly.
Disorderly conduct consists of any improper behavior such as fighting, threats of violence, or creating a dangerous atmosphere.