A Doctor's Mistake: Honest Error or Medical Malpractice?
December 12, 2019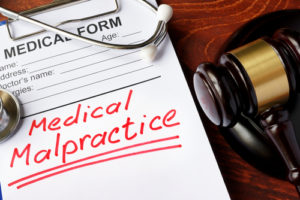 Differentiating Medical Malpractice from Mistakes
Have you ever tried Googling your symptoms only to discover you could have a multitude of diseases or conditions?
If so, then you already know how difficult it is to self-diagnose a condition based on the facts. Despite this, we often expect our doctors and health care providers to provide accurate diagnoses in nearly every circumstance. Doctors do make mistakes, so what's an appropriate standard of care to hold them to? How can we tell whether a doctor's mistake was an honest accident or a case of medical malpractice? Find out the answers below.

Medical Errors: Was It a Bad Outcome or Malpractice?
Your health care provider's ability to treat different conditions and illnesses is limited. Diseases are complicated, and a guaranteed cure isn't available for most of them. To further complicate things, most symptoms are not unique to a specific condition. That means a host of symptoms could indicate dozens of different conditions.
Your health care provider may not always be able to determine the exact cause of your symptoms without some trial and error. Similarly, not all treatment methods will have the same effect on all people.
What happens if this trial and error period causes an injury to the patient? A bad medical outcome occurs when your doctor has closely followed standard procedure and diligently attempted to provide you with the best medical care. Malpractice, on the other hand, occurs when your doctor didn't adhere to the accepted standard of care in your situation.
Defining Medical Malpractice and Negligence
Medical malpractice is the result of medical negligence. Negligence means that your doctor's care fell below the proper medical standard. Here are a few specific examples of behaviors that would be considered medical negligence:
Surgical errors
Delayed diagnosis
What if your doctor's mistake wasn't so obvious? How do judges or juries determine what the appropriate standard would have been in your specific case? In most circumstances, expert medical witnesses are called to the stand. They are asked exactly what they would have done if they were the ones providing care to the patient.
Contact An Experienced Attorney for a Consultation About Your Medical Malpractice Case in New Jersey
Were you or a loved one injured due to medical malpractice in New Jersey? Then you need to talk to an experienced medical malpractice lawyer as soon as possible for guidance on how to proceed. The East Brunswick medical malpractice attorneys at Rudnick, Addonizio, Pappa & Casazza PC are prepared to assist you with your legal claim. We represent victims of negligent surgeons, doctors, nurses, and pharmacists throughout New Jersey, including East Brunswick, Hazlet, Middletown, and Red Bank. Call us today at 866-567-0135 or fill out our online contact form to schedule a consultation. Our main office is located at 197 State Route, 18 South Suite 3000, East Brunswick, NJ 08816 and we also have offices in Hazlet.
The articles on this blog are for informative purposes only and are no substitute for legal advice or an attorney-client relationship. If you are seeking legal advice, please contact our law firm directly.