Consequences of Committing Traffic Violations
February 27, 2019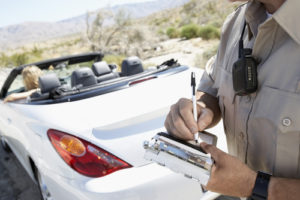 Most motorists mistakenly believe that they can simply pay their way out of a ticket. Sometimes, a traffic violation can cause consequences like a hike in your insurance rates, traffic school attendance or a suspension of your driving privileges. It's important to be versed on these potential results of traffic tickets to help keep you vigilant about the laws of the road.
Monetary Fines
Financial fines are the most commonly issued type of punishment for traffic crimes. Simple moving violations like failing to yield or accidentally running a stop sign can result in hefty fines of upwards of $400. At times, the monetary fine issued against you may be increased based on any other recent traffic tickets you have received. Most of these fines are standard and are already calculated by the time your ticket is issued to you.
Driving Record and Insurance Rate
If you decide to simply pay the fines associated with your ticket, then you are essentially pleading guilty to the violation. It's important to recognize that this offense will become a part of your permanent driving record. Not only will traffic violations cost you monetarily, they may also cost you additional money in increased insurance rates. Most insurance companies won't raise your rates the first time you get a ticket, but repeated violations will assuredly cause your rates to increase. In most cases, your insurance company will only increase your rates when you have been found guilty, so it may be beneficial to fight your ticket in court.
Suspension of Driving Privileges
Several minor traffic crimes committed over a brief period of time can cause your driving privileges to be suspended. Usually, courts will only order this when the person has had at least three previous convictions over the past three to five years. If you are convicted of more serious traffic crimes, then you may lose your license entirely.
Traffic School
Sometimes a ticket can be completely voided by attending a six to eight-hour traffic school class. This option is most beneficial for individuals with only one ticket over the past year. Unfortunately, attending traffic school may not be an option when your traffic ticket alleges excessive speeding.
Contact an Experienced Hazlet Traffic Violation Attorney About Your Traffic Charges in New Jersey
Have you been charged with a traffic offense in New Jersey? A traffic conviction could leave you with a permanent record, and it could result in your driver's license being suspended for a very long time. That is why it is imperative that you speak with a qualified traffic defense lawyer about your case. The lawyers at Rudnick, Addonizio, Pappa & Casazza represent clients charged with traffic violations and related offenses in Hazlet, East Brunswick, Long Branch, Edison and throughout New Jersey. Call 732-264-4400 or fill out our confidential online contact form to schedule a consultation about your case. We have an office located at Park Village, 25 Village Court, Highway #35, Hazlet NJ 07730 and we also have offices in East Brunswick.
The articles on this blog are for informative purposes only and are no substitute for legal advice or an attorney-client relationship. If you are seeking legal advice, please contact our law firm directly.