Common Charges for Drug Offenders That Are Not Violent Offenders
October 29, 2019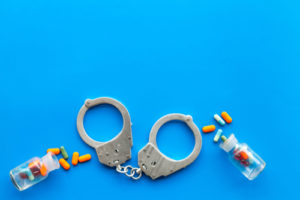 Being Charged With a Drug Offense in New Jersey
When a person is charged with a drug crime, the individual could suffer from some of the most serious consequences. Both violent and non-violent drug offenders may see themselves facing many years behind bars because of the laws that have been put in place for those that are found guilty of manufacturing and distributing drugs. When a drug offender has been deemed non-violent, it is because the person may have had drugs on their body and might have even manufactured them. However, it means that person might not be a threat because he or she has never committed a violent crime. If a person is abusing drugs, for example, that person is a threat to themselves but not to the public.

Although non-violent offenders may have never engaged in any violent behavior in the past, those offenders could still receive lengthy prison sentences for their decision to get involved with illegal substances. There have been non-violent offenders that have spent decades behind bars for drug offenses despite their best efforts to get out of prison earlier due to their non-violent behavior. Prison sentences are often determined by other factors, including the types of drugs that were found with the individual and the amount of them. If large amounts are found, it is automatically assumed that the individual is manufacturing and selling those drugs, which could lead to a much lengthier prison sentences for those involved.
Understanding the Consequences
While aggressive drug offenders often receive the worst penalties over everyone else, non-violent drug offenders can still end up suffering some major consequences as a result of the bad decisions that were made. Officials have pushed for lengthier sentences for those that are involved in the drug trade, especially now that there is an opioid crisis going on in the United States. Community members tend to agree with officials because they realize how much of a negative impact these drugs have had on the lives of many people. Most people in the United States know at least one person who is fully addicted to drugs, such as cocaine, heroin, or even fentanyl.

If an offender has a history of being violent, that drug offender will likely spend a lot more time in prison. There is often a bit of a debate about the current laws in different states throughout the country. For example, there are people serving lengthy sentences in prison for possession of marijuana even though it is becoming legal in many states across the country. There are people who get out of prison much earlier despite committing crimes that are much worse than a simple possession charge.
Building the Best Defense
After being arrested, non-violent offenders will often have police officers and detectives asking them different questions about the situation. Anyone who is in this situation should not answer these questions unless they have a criminal defense lawyer with them. If you are in this situation, you do not want to incriminate yourself by answering questions in a way that they could potentially get used against you. If you say nothing and contact a lawyer, he or she can review the case and work on building the best defense for you.
Contact an Experienced East Brunswick Criminal Defense Lawyer About Your Drug Charges in New Jersey Today
Were you arrested or charged with a drug offense in New Jersey? The consequences of a conviction could be severe, leaving you with a permanent criminal record and possibly even sending you to jail. That is why you need to speak with a qualified criminal defense attorney as soon as possible about your case. The attorneys at Rudnick, Addonizio, Pappa & Casazza have successfully represented clients charged with criminal charges in Piscataway, New Brunswick, Perth Amboy, East Brunswick and throughout New Jersey. Call 866-567-0135 or fill out the online contact form to schedule a consultation with a member of our legal team. We have an office conveniently located at 25 Village Ct, Hazlet, NJ 07730 as well as an office located in East Brunswick.

The articles on this blog are for informative purposes only and are no substitute for legal advice or an attorney-client relationship. If you are seeking legal advice, please contact our law firm directly.