Woman Endured Years of Sexual Assault and Harassment in the Workplace
January 11, 2018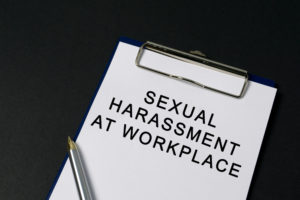 The workplace is supposed to be an environment in which you feel comfortable and safe throughout your work day. As an employee of whatever establishment, you should never feel like your rights are violated and you should have the freedom to take action if they are.
That, unfortunately, was not the case for one New Jersey woman who allegedly endured years of sexual assault, groping and demeaning remarks at the hands of her boss and his brother.
The 43-year-old single mother began working at the restaurant in 2006 preparing food, taking orders, opening the shop and sometimes closing the shop. She received a salary raise the following year and that is when she says that the verbal abuse from her boss and his brother began. They would call her things like "white trash," quiz her about her sex life, and make obscene gestures with produce.
Then in 2009 the sexual assault from her boss began. His brother allegedly began sexually assaulting her in 2012.
The woman claims the two would repeatedly corner her in the walk-in refrigerator, behind the grill and in the upstairs office, where they would put their hands down her pants and up her shirt when no other employees were present.
The two brothers deny the allegations and claim the woman is lying. The 43-year-old single mother eventually ended up without a job in 2014. The brothers claim she quit months after spilling a large pot of scalding coffee on her foot.
The woman contests this, claiming she was fired by the brothers as punishment for pursuing a worker's compensation claim for her injured foot. In an effort to make sure the sexual harassment she suffered at the hands of her bosses does not happen to others, like her daughters, the woman is pursuing legal action against her abusers.
This particular case involves a multitude of illegal actions, ranging from sex crimes to violation of worker's rights. Not only was the woman taken advantage of as an employee, but she was also fired when trying to pursue a worker's compensation claim, which further violates her rights.
If you or a loved one are in a similar situation and feel your worker's rights are being compromised then you should hire an attorney experienced with employment law in New Jersey. The attorneys at Rudnick, Addonizio, Pappa & Casazza PC have the experience and tools to help you with your case. Contact us today by calling 732-264-4400 to set up a consultation.
The articles on this blog are for informative purposes only and are no substitute for legal advice or an attorney/client relationship. If you are seeking legal advice, please contact our law firm directly.