6 Common Examples of Pregnancy Discrimination in the Workplace
October 1, 2021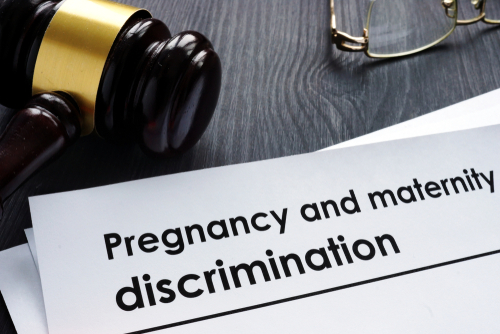 According to New Jersey and federal law, discriminating against a woman because she's pregnant is illegal. Read on to learn what pregnancy discrimination looks like.
What is the Pregnancy Discrimination Act?
The Pregnancy Discrimination Act was first established in 1964, and then later amended in the year 1978. It prohibits employers from discriminating against a person based on their pregnancy, childbirth, or other related conditions. Perhaps one of the biggest problems, is that it's not always easy to recognize what's discrimination.
Types of Pregnancy Discrimination
Here are a few common ways that a company may discriminate against someone in the workplace for being pregnant.
1. The Company Doesn't Hire a Qualified Candidate Because She is Pregnant
Not only are employers not allowed to choose not to hire someone solely because they're pregnant, but they're also not allowed to ask questions to gather this information about a candidate. This is because employers cannot make hiring decisions based on your family status, including pregnancy.
2. The Company Doesn't Hire You Because You Plan to Become Pregnant
An employer also cannot withhold hiring because you have plans to become pregnant. They also cannot ask about your current children or childbearing plans during an interview.
3. The Company Lets You Go Because You're Pregnant
Companies also cannot fire you solely because you're pregnant. They may make excuses, questioning your ability to do the job, but it's still illegal.
4. The Company Retaliates Against You For Filing a Complaint
If an employer wrongly discriminates against you because of your pregnancy or plans to become pregnant, you have the right to file. Whistleblower protections also mean that they cannot retaliate against you for doing so. This covers firing you from your position or giving you bad performance reviews.
5. The Company Refuses to Accomodate You
Your employer is also required to provide you with reasonable accommodations due to pregnancy or another related medical condition. This includes work limitations due to your pregnancy. If an employer would realistically offer the same accommodations to another team member who's not pregnant, then they must also offer them to you.
6. The Company Verbally Harasses You
If your employer harasses you about your pregnancy or plans to become pregnant, it also violates discrimination laws. They can't make inappropriate comments or assumptions about pregnancy.
Are You Being Discriminated Against in the Workplace?
Discrimination against pregnant, nursing or those who plan to become pregnant is illegal. If you believe that you're being discriminated against in the workplace, whether it's due to pregnancy or another medical condition, it may be worth it to reach out to a lawyer. Filing a complaint is one of the first steps to take if you believe you're being discriminated against. You can file a complaint with the Equal Employment Opportunity Commission (EEOC). When you do this, they will open an official investigation into the employer.
You may also be able to file a complaint with the local Fair Employment Practices Agencies (FEPAs) in your city. The commission will request any documentation or evidence you may have to prove your case. It may also be worth it to discuss your case, and your available legal options, with an employment discrimination lawyer.
Contact a Howell Employment Discrimination Lawyer for a Consultation About Pregnancy Discrimination in New Jersey Today
If you are being wrongly discriminated against in the workplace due to pregnancy, or your plans to become pregnant, you need to speak with a qualified lawyer. The New Jersey employment discrimination lawyers at Rudnick, Addonizio, Pappa & Casazza PC represent clients throughout the state, including Middletown, Howell, Marlboro, and Manalapan. We understand how challenging this time can be for you, which is why we will fight hard to protect your interests, and the interests of your loved ones, throughout the legal process. Call us at (732) 264-4400 or fill out our confidential contact form to schedule a consultation. We have an office conveniently located at Park Village, 25 Village Court Highway, #35 Hazlet, NJ 07730, as well as an office located in East Brunswick, NJ.
The articles on this blog are for informative purposes only and are no substitute for legal advice or an attorney-client relationship. If you are seeking legal advice, please contact our law firm directly.