What Does Workplace Discrimination Look Like?
January 31, 2021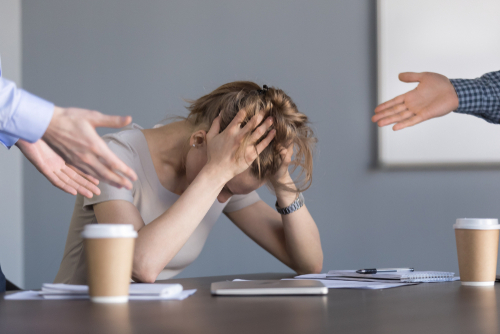 Work should be a safe place that enables the success and promotion of its employees based on their performance. It should not be a place where our identity and background make us targets. Yet every day, people are made to feel uncomfortable in the workplace. Fortunately for New Jersey residents and employees, the NJ law against discrimination is defined as discrimination on the basis of, "Race, Creed, Color, National Origin, Age, Ancestry, Nationality, Marital or Domestic Partnership or Civil Union Status, Sex, Pregnancy, Breastfeeding, Gender Identity or Expression, Disability, Liability for Military Service, Affectional or Sexual Orientation, Atypical Cellular or Blood Trait, Genetic Information (including the refusal to submit to genetic testing." (nj.gov) If you or a loved one have been discriminated against based on any of these of factors, you may have a claim.
Types of Workplace Discrimination
Workplace discrimination takes two forms: direct liability and indirect liability.
Direct liability occurs when an employer either creates or nurtures a discriminatory workplace from those in leadership roles down to employees under their supervision. Indirect liability more commonly occurs between employees and is therefore more difficult to prove in court. Here are some of the ways workplace discrimination manifests:
• Fixed Roles: this occurs when a company refuses to promote certain employees based upon the factors stated above. For example, if a company refuses to promote people of a certain race or gender despite being equal or more qualified than those promoted, you may have a claim.
• Inadequate Discipline: Did you and another colleague make a similar error, but your punishment was way more severe? Do you feel as though your work is held under unfair scrutiny? Some employers use biased disciplinary tactics to unfairly justify reprimanding or firing an employee.
While they may think this protects them, it often leaves a paper trail for a successful claim.
• Lacking Diversity: a company that only hires one specific group of people while ignoring others that apply may be engaged in discriminatory actions. A company cannot refuse to hire someone based on their identity.
• Supervisor is Demeaning: If your manager routinely talks down to you, makes crude or offensive remarks, or otherwise disparages you, you may have a claim.
• Inconsistent Workload: Has your employer routinely set you up for failure? Have they given you unrealistic deadlines compared to other employees, or taken away responsibilities that make doing your job difficult or impossible? Did it result in you missing out on a promotion, or your termination from the position? If any of this sounds familiar, you may have workplace discrimination claim.
Don't Delay Reaching Out to an Employment Law Attorney
When discriminated against at work, it can leave you feeling helpless. Do not let yourself be a silent victim. If you have been wrongfully discriminated against at work, resulting in diminished hours, opportunity, or even job termination, the law firm of Rudnick, Addonizio, Pappa & Casazza PC can help.
Contact a Middletown Labor Lawyer to Discuss Your New Jersey Discrimination Case
Workplace discrimination can be devastating to experience. Although New Jersey labor laws are supposed to protect you from discrimination, it is not always easy to defend your rights on your own. That is why you should speak with a knowledgeable labor lawyer about your situation and get guidance throughout the process. The experienced employment law attorneys at Rudnick, Addonizio, Pappa and Casazza represent clients in Middletown, East Brunswick, Hazlet, and all across New Jersey. Call 732-264-4400 or fill out our online contact form to schedule a consultation about your age discrimination case. Our main office is located at 197 State Route 18 South, Suite 3000, East Brunswick, NJ 08816 and we also have offices in Hazlet, NJ.
The articles on this blog are for informative purposes only and are no substitute for legal advice or an attorney-client relationship. If you are seeking legal advice, please contact our law firm directly.