Modifying your NJ Child Support Order
August 1, 2019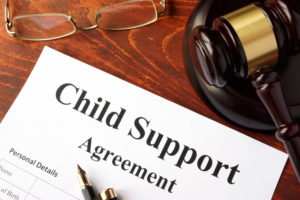 Statistics on Divorced Couples with Children
How many divorcing couples have children together? According to a massive study conducted back in 2006, at least six out of every ten divorces involve children.
When parents get divorced, the non-custodial parent is often ordered to pay financial support to the youngster until they turn 18-years-old. When a significant change in circumstances has occurred, parents may wish to seek a child support modification request to alter the overall amount they owe to the other parent. Below we'll get into more details about when and how to pursue these changes in New Jersey.
When Can You File a Modification Request in New Jersey?
A New Jersey judge will only allow a child support order to be modified when the parent or child has experienced a significant change in circumstances. Such changes must be unanticipated, permanent and substantial enough to warrant a change in the order's amount. Here are some things that courts would consider a substantial change in circumstances:

One parent obtained a higher paying job
The child's parenting plan has significantly changed
One or both parents became disabled or unable to work
Substantial health issues of either the child or parent
The needs of the child have changed
The parent has additional children to support that weren't considered when the order was entered into
Note that temporary circumstances, like intentional unemployment, won't be considered substantial enough for a judge to approve a modification.
Factors a NJ Judge will Consider During a Modification Request Hearing
Your individual change in circumstances may or may not warrant a modification. Judges will also consider several factors when deciding whether to approve your request. Here are some of the factors NJ courts will also consider:

The needs of the child
Both parent's economic and living circumstances
Both parent's assets and sources of income
The earning ability of both parents
The age and health of both parents and the child
The reasonable debts and liabilities of each parent
Any other relevant factors
If you think your situation warrants a change in your child support order, then you'll need to begin the process by filing a motion with the court. Be prepared to provide plenty of financial information to the courts to help them understand your situation.

Contact a Middletown Family Law Attorney for a Consultation About Child Support Orders in New Jersey Today
If you are thinking about filing for divorce, or if you have already started the divorce process and are dealing with another matter such as child custody, child support, or property division, you need to speak with a qualified attorney. The New Jersey family law attorneys at Rudnick, Addonizio, Pappa & Casazza PC represent clients throughout the state, including East Brunswick, Hazlet, Middletown, Monroe, Keyport, Union Beach, Holmdel, and Atlantic Highlands. We understand how challenging this time can be for you, which is why we will fight hard to protect your interests, and the interests of your loved ones, throughout the legal process. Call us at 866-567-0135 or fill out our confidential contact form to schedule a consultation. We have an office conveniently located at 197 State Route 18, South Suite 3000, East Brunswick, NJ 08816 as well as offices located in Hazlet.

The articles on this blog are for informative purposes only and are no substitute for legal advice or an attorney-client relationship. If you are seeking legal advice, please contact our law firm directly.