Is Early Discharge Medical Malpractice?
February 1, 2018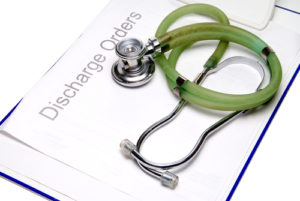 Before that question can be answered you must first know what medical malpractice is. Medical malpractice is when the action or inaction of a medical professional or doctor falls below the accepted medical standard of care, resulting in some type of harm or injury to the patient in question.
The "accepted medical standard of care" is a legal term used to describe the acceptable level of care that another or similar medical professional or doctor would provide a patient with the same problem or circumstances.
Medical malpractice cases span a wide spectrum from surgical errors to cancer misdiagnosis to failing to diagnose a condition at all. In the instance of being prematurely discharged, it may not always reach the level of medical malpractice but it certainly could. That might not be the original intent, especially since hospitals discharge patients early for a variety of reasons, such as:
Overcrowding
Limit of manageable surgical volume
Not enough beds/staff available
While the aforementioned issues sound pretty bad, it is usually a reflection of poor management on the hospital's part.
If you were prematurely discharged and ended up harmed as a consequence, then you might want to pursue a medical malpractice suit. Whether the medical professional failed to properly diagnose and treat you or failed to conduct proper testing prior to your discharge.
In any event, in order to provide a viable and strong case you will need to be able to prove that you were discharged early as well as provide an expert witness that states you fell below the acceptable medical standard of care.
It is important to look into hiring an experienced medical malpractice lawyer to help with your case and help you recover the following types of damages:
Lost wages – these include wages lost because of missing work due to the injury that stemmed from your early discharge. In addition, you can recover damages for future wages lost if you are unable to engage in certain work activities because of the injury.
Medical costs – these damages include any medical bills received in relation to the injury caused by your early discharge.
Pain and suffering – this is a tricky thing to prove but is based on the severity and permanency of the injury you suffered because of your early discharge.
Remember, it is important to communicate with your medical professional if you feel you are being discharged too early. Voice your concerns or let your doctor know if you are still in pain.
It is an unfortunate matter to be at ends with your doctor or medical professional but those responsible for your harm should be held accountable.
That is why you should hire an experienced medical malpractice attorney to help fight your case. The attorneys at Rudnick, Addonizio, Pappa & Casazza PC bring years of experience and knowledge to every case they handle.
Call 732-264-4400 or fill out our online contact form to schedule your free initial consultation today.
The articles on this blog are for informative purposes only and are no substitute for legal advice or an attorney/client relationship. If you are seeking legal advice, please contact our law firm directly.