The Dog's Owner Says I Caused the Dog to Bite Me. What Do I Do?
March 16, 2018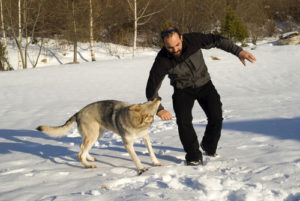 When a dog bites someone or causes another injury, it's common for the injured person to seek compensation for the medical bills, pain and suffering, and other losses associated with the dog bite. It's also common to hear the dog's owner or their insurance company try to argue that you were fully or partly responsible for the dog bite.
The claim that you're at fault can come in a number of ways. For instance, the dog's owner might argue that you were trespassing and that therefore dog bite rules don't apply. Or the dog's owner might claim that you provoked the dog either accidentally (such as by stepping on the dog's tail) or on purpose (such as by teasing the dog).
In some cases, you might even believe you do share some the blame. For example, maybe you ignored a neighbor's "Beware of Dog" sign, or you reached through a fence to pet a dog you thought was friendly. In this situation, it's important to understand how shared fault works in dog bite cases.
Different states deal with shared negligence differently. Most shared fault rules fall into one of three categories:
"Pure" comparative negligence reduces any damages for the injury by the percentage of fault assigned to the injured person. For instance, if you are found to be 30 percent at fault, your damages are reduced by 30 percent. If you're found to be 70 percent at fault, your damages are reduced by 70 percent.
"Modified" comparative negligence works similarly to pure comparative negligence, except there's a "cutoff" point if you are 50 percent or more at fault. For instance, if you're found to be 30 percent at fault your damages are reduced by 30 percent, but if you're 70 percent at fault, you receive nothing.
Contributory negligence holds that if you were even 1 percent at fault, you receive no damages.
Talk to a lawyer to understand the shared fault rules that apply to your case and how they might affect your claim for damages.
Contact a Skilled New Jersey Personal Injury Lawyer About Your Dog Bite Injury Today for Free
The personal injury lawyers at Rudnick, Addonizio, Pappa & Casazza fight for the compensation our clients deserve. Contact us today at 732.264.4400 or toll-free at 866.567.0135 for a free and confidential consultation.
The articles on this blog are for informative purposes only and are no substitute for legal advice or an attorney-client relationship. If you are seeking legal advice, please contact our law firm directly.