When Should You Sue Over Dog Bite Injuries?
February 10, 2020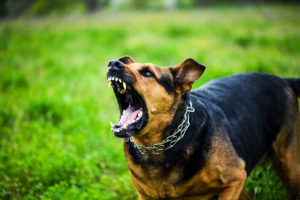 If you are bitten by someone else's dog (and once you contact the dog's owner to report the bite), you may later be contacted by the owner's attorney or insurance company to discuss a settlement that will provide you with compensation for the injuries and other damages you've incurred as a result of the dog bite. However, before you accept a settlement, you should pause to consider whether you may be entitled greater compensation than what is being offered and should instead pursue a lawsuit.
Types of Compensation Available in Dog Bite Cases
State law allows a person injured by a dog bite to recover compensation for the damages caused by the dog bite or attack, including:
Medical expenses incurred to treat your injuries
Lost wages from time missed from work while you were recovering from your injuries
Any permanent disfigurement or disability caused by the injuries you sustained in the dog attack
Emotional distress or other pain and suffering endured as a result of your injuries
Any property damaged in the attack, such as clothing, glasses, a watch, a mobile phone, etc.
Any other costs incurred that are attributable to the injuries you suffered
A dog bite claim can either be resolved through a negotiated settlement, or through a lawsuit that ends a dismissal or judgment in favor of one of the parties.
Calculating Compensation for Dog Bite Claims
If you are compensated through a negotiated settlement, you (and your attorney, if you have one) and the dog's owner (and usually the owner's insurance company and the attorneys the insurer has retained) will come to an agreement on the amount of damages that you have incurred. However, a settlement figure will also take into account the uncertainty, risk, and costs that both parties are avoiding by not going to trial.
If you take your dog bite claim to trial, the jury (or the judge in a bench trial) will determine how much compensation you should receive based on the evidence of damages that you present.
Deciding Whether to Go to Trial in Dog Bite Cases
In determining whether to accept a settlement offer or pursue your dog bite claim at trial, you will have to weigh the various pros and cons of settlement versus going to trial. Settlement has advantages including:
Quick resolution of your claim
Quick compensation
Allows you to move own
Reduces your legal fees and costs
Certainty in the compensation you receive
Potential to make your settlement confidential
Of course, the disadvantage of settlement is that you may be accepting less money that you would receive at trial (although there is no way to guarantee what you might receive at the end of a trial).
The advantages of pursuing your claim at trial include a chance of receiving more compensation. But trial has several disadvantages, such as:
No guarantee of the outcome
Potentially higher legal costs and fees
Your case becomes a matter of public record
Litigation can take months or even years to reach completion
An experienced dog bite attorney can evaluate your case and give you a seasoned opinion as to whether any settlement offer you've received represents fair compensation of your claim, or whether the potential benefits and risks of going to trial weigh in favor of pursuing litigation.
Contact a Hazlet Personal Injury Lawyer to Discuss Your Dog Bite Case in New Jersey
Did you or a loved one sustain serious injuries due to a dog bite in New Jersey? Don't let the medical bills pile up while you wait for the negligent party or their insurance company to do the right thing. Right now, you need an aggressive personal injury attorney on your side, fighting to get you the compensation you need, want, and deserve. The skilled attorneys at Rudnick, Addonizio, Pappa & Casazza PC represent clients injured because of dog bites in Middletown, Hopwell, Marlboro, Manalapan, and throughout New Jersey. Call (732) 264-4400 or fill out our online contact form to schedule a consultation about your case. We have an office conveniently located at 25 Village Ct., Hazlet, NJ 07730, as well as offices in East Brunswick.
The articles on this blog are for informative purposes only and are no substitute for legal advice or an attorney-client relationship. If you are seeking legal advice, please contact our law firm directly.