Discovery and Document Review in Business Litigation
April 18, 2019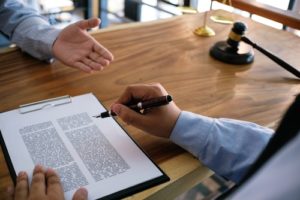 When a company is sued or sues another person or entity, there are many considerations it must weigh in order to determine what the best litigation strategy is in light of the particular facts of the case. Perhaps the most essential tool in determining the best litigation strategy for a particular case is to utilize a process known as "discovery." This article explains what discovery is and how it is helpful in litigating corporate employment law cases in New Jersey.
Discovery Defined
Discovery is the process by which parties gather information and evidence related to their case. During the discovery process, parties may request that opposing parties provide them with various pieces of information that are in the opposing parties' possession. Usually, discovery consists of acquiring documents relevant to the issues in the case. However, it can also be used to acquire other evidence relevant to the case such as video footage of the incident in question or audio recordings of potential witnesses' statements. Discovery usually begins after the defendant files a pleading called an answer, which responds to the allegations set forth in the plaintiff's complaint. Discovery ends, however, on a date set by the court depending on the particular circumstances surrounding the case, but prior to trial.
Discovery Methods Used in NJ
While discovery is the general process by which parties gather evidence relevant to their case, New Jersey law limits the methods by which parties may obtain evidence or information from an opposing party. According to New Jersey law, there are six permissible methods that one may use to acquire relevant information from an opposing party. These methods are as follows:
Depositions: Depositions are statements that potential witnesses make under oath. Depositions may either be taken orally upon examination of the potential witness and later transcribed or they may be taken by administering the potential witness written questions to which the potential witness must provide written responses.
Written Interrogatories: Just as the name may suggest, written interrogatories are written questions posed to the opposing party, wherein the party requests that the opposing party disclose certain information known to it. These questions may range from asking the opposing party to disclose the names and addresses of any potential witnesses to disclosing specifics about the party's liability insurance policy.
Production of Documents or Items: In New Jersey, parties are able to ask the other party to produce copies of relevant documents such as a contract, financial statements, photographs, and insurance policy documentation. Moreover, if the opposing party has other items such as relevant video footage, parties are permitted to request that the opposing party furnish them a copy of said footage.
Permission to Inspect Land: Typically only used in land disputes or premises liability cases, parties may also request that opposing parties permit them to enter the opposing parties' land to inspect it.
Physical or Mental Examinations: In certain cases, it may be useful to acquire physical examinations or mental examinations of those who are claiming they have suffered physical or emotional injury because of a company's actions. New Jersey law permits parties to require those claiming said injuries to undergo and provide the results of physical and/or mental examinations to the requesting party.
Requests for Admissions: Requests for admissions is a method of discovery by which one party asks the opposing party to stipulate to certain facts concerning the case. If the opposing party makes an admission, this can be used as incontrovertible evidence of the existence of that specific fact at trial.
How Discovery is Helpful in Business Litigation
If a business has undergone the discovery process by utilizing any or all of the above-described discovery methods, the information received can be telling of the business' chances in prevailing at trial. Discovery allows businesses to learn what evidence is out there, both good and bad, concerning the case. If the evidence obtained is mostly bad for the business, the business may be able to save valuable time and resources in litigating a case by deciding to enter into a settlement agreement with the opposing party. Alternatively, if the evidence obtained is mostly good for the business, then the business may either use this information as leverage to broker a more favorable settlement agreement or as grounds to justify going to trial. Accordingly, in business litigation cases, discovery permits businesses to have a clearer picture of the case at hand and to be able to develop the best litigation strategy they can given the particular circumstances of the case.
Contact an East Brunswick Business Litigation Attorney for a Consultation About Your Case Today
Has your New Jersey company been sued or sued another entity? Business litigation issues are often complex and require the hiring of an experienced attorney to successfully handle them. The experienced business litigation attorneys at Rudnick, Addonizio, Pappa & Casazza PC are prepared to assist you and have represented corporate clients throughout New Jersey including East Brunswick, Manalapan, Middletown, and Edison. Call us at (866) 567-0135 or fill out our confidential contact form to schedule a consultation. We have an office conveniently located at 197 State Route 18 South, Suite 3000, East Brunswick, NJ 08816, as well as an office located in Hazlet, NJ.
The articles on this blog are for informative purposes only and are no substitute for legal advice or an attorney-client relationship. If you are seeking legal advice, please contact our law firm directly.