6 Most Common Christmas Accidents and Injuries
December 20, 2021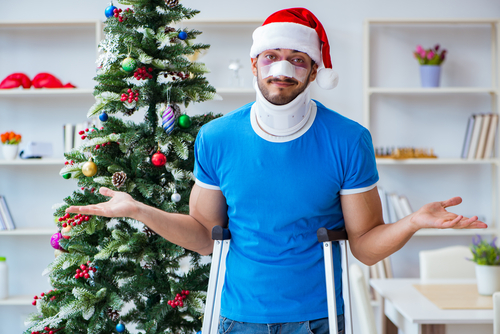 The holidays are upon us, and before we know it, we'll be inviting family members over to enjoy the celebrations. Before you finish hanging the lights and decorating the tree, let's review a few of the most common Christmas accidents and injuries, so you can help keep your family and visitors safe this year.
Here are a few of the most common Christmas accidents and injuries:
1. Defective Product Injuries
Many households swap gifts over the holidays. Broken, damaged, or poorly designed products can lead to defective product injuries. This can also occur from decorations, including putting lights around the house or adding them to your front yard. Loose wires or faulty electrical components can lead to painful injuries.
2. Tree Accidents
Finding the perfect Christmas tree is an important tradition to many. Finding the perfect tree can also lead to injuries while cutting or transporting the tree. Dried out trees can also lead to home fires. Many people may also be injured due to improperly cleaning up their trees after the holiday season's over.
3. Falls
Many households enjoy the friendly competition that comes with competing against their neighbors to decorate the most festive. This can lead to falls when climbing a ladder to put lights on the roof. Falls can also occur when decorating outdoors or visiting family at their homes and slipping on ice.
4. Cooking Accidents
Cooking accidents are a leading cause of injuries around the holidays. Many households will have their stovetops or ovens on from early in the morning until late at night. This can lead to painful burns or even fires. Many households also use candles when decorating, which can increase the risk of burns.
5. Drunk Driving
Many holiday celebrations include alcoholic drinks. This leads to an increase in not only DUIs but also car accidents that relate to drunk driving.
6. Car Accidents
Car accidents are also more likely to increase during the holidays. While alcohol is a contributing factor in many of them, it's not the only cause. Car accidents can also be caused by distractions, winter weather, or fatigued drivers. The holidays change many people's habits, leading to distracted driving or driving while overly tired.
What to Do If You're Injured in a Holiday Accident
You can take certain steps to prevent an accident, like taking extra care when cooking or avoiding drinking and driving. However, you can't always control what other people or drivers do. In addition to taking certain steps to keep you and your family safe, it's also important to know what to do if you are involved in an accident. Receiving medical care should always be the first thing you do following an accident of any type, any time of the year. Then, decide what caused the injury. This may be a good time to begin preserving evidence. For example, if you were injured by a defective product, safely wrap up the product and take any photographs of the defective parts. If another driver injured you and you believe they were distracted or under the influence, file a police report, and take photographs or video evidence from the scene of the accident.
Contact a Howell Personal Injury Lawyer to Discuss Your Accident Case in New Jersey
Did you or a loved one sustain serious injuries due to an accident in New Jersey? Don't let the medical bills pile up while you wait for the negligent party or their insurance company to do the right thing. Right now, you need an aggressive personal injury attorney on your side, fighting to get you the compensation you need, want, and deserve. The skilled attorneys at Rudnick, Addonizio, Pappa & Casazza PC represent clients injured because of an accident in Middletown, Howell, Marlboro, Manalapan, and throughout New Jersey. Call (732) 264-4400 or fill out our online contact form to schedule a free consultation about your case. We have an office conveniently located at Park Village, 25 Village Court Highway, #35 Hazlet, NJ 07730, as well as an office in East Brunswick, NJ.
The articles on this blog are for informative purposes only and are no substitute for legal advice or an attorney-client relationship. If you are seeking legal advice, please contact our law firm directly.