What to Do after a Bicycle Crash in New Jersey
May 20, 2021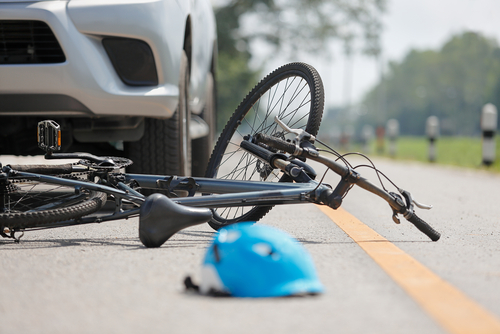 Riding a bicycle is a fun, enjoyable form of exercise and transportation. However, even if you take every precaution when riding your bicycle on the road, you are still at risk for an accident caused by a negligent motorist or some other cause. If you choose to ride your bicycle, you should be aware of the steps to take in the event you are involved in a bicycle accident; remembering these steps can help you protect your legal rights and options.
Document the Accident Scene
If possible, try to take photographs or video of the accident scene, including the damage to your bicycle and other vehicles involved, the road lines and traffic controls at the scene, any skid marks on the road, and the weather, lighting, road, and traffic conditions at the time of the accident. Also document any visible injuries you suffered. You should also save any helmet camera footage you may have been taking at the time of your accident. This evidence can be critical to later proving how the accident occurred and who was at fault.
Talk to Others Involved
Be sure to get contact and insurance information for the drivers or operators of any vehicles involved in the crash, and the contact/insurance information of the owners of the vehicles, if different. Also note the make, model, color, and license plate number of the vehicles.
Talk to Eyewitnesses
If there were any eyewitnesses to your crash, be sure to get their names and contact information in case you later need to get a statement or testimony from them.
Get a Police Accident Report
A police officer should be called to the scene to prepare a police accident report. Be sure the officer talks with you, the motorist(s) involved, and any eyewitnesses. Remember to later request a copy of the accident report from the police department.
Seek Medical Treatment
Even if you don't feel like you suffered any injuries in your crash, you should still go to the hospital or get an appointment with your primary care physician for an examination. A health care provider may be able to identify injuries you suffered in your accident that you are not yet feeling pain or other symptoms of. Promptly identifying your injuries will allow you to start treatment and improve the prognosis of your recovery and will also allow you to more persuasively argue that your injuries were caused by the accident; if you wait weeks or months to seek treatment, the other driver may argue that you weren't as badly injured as you claim or that your injuries were caused by some other trauma or are a normal degenerative injury.
Contact Your Auto Insurance Company
Although it may seem counterintuitive, if you or a member of your household has car insurance, you should contact your insurer, as you may be entitled to personal injury protection coverage. PIP is "no-fault" coverage available to pay for your medical bills, lost wages, and other out-of-pocket expenses regardless of who eventually is determined to be at fault for the accident.
Contact a Hazlet Personal Injury Lawyer to Discuss Your Bicycle Accident Case in New Jersey
Did you or a loved one sustain serious injuries due to a bicycle accident in New Jersey? Don't let the medical bills pile up while you wait for the negligent party or their insurance company to do the right thing. Right now, you need an aggressive personal injury attorney on your side, fighting to get you the compensation you need, want, and deserve. The skilled attorneys at Rudnick, Addonizio, Pappa & Casazza PC represent clients injured because of bicycle accidents in Old Bridge, Piscataway, New Brunswick, Perth Amboy, Middletown, and throughout New Jersey. Call (732) 264-4400 or fill out our online contact form to schedule a consultation about your case. We have an office conveniently located at Park Village, 25 Village Court Highway, #35, Hazlet, NJ 07730, as well as offices in East Brunswick.
The articles on this blog are for informative purposes only and are no substitute for legal advice or an attorney-client relationship. If you are seeking legal advice, please contact our law firm directly.