What is Negligence?
November 25, 2019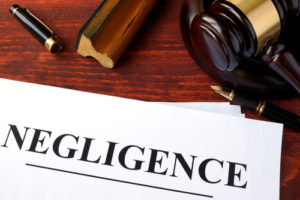 Personal Injury and Negligence
If you have ever been a part of a personal injury legal case or you were recently injured at the fault of another person, then you may have heard the term negligence used once or twice. Negligence is defined as a failure to take proper care when doing something. While this definition is very broad, it can be specified to include wrongdoing.
Examples of Negligence
Any of the following cases might include negligence:
Another driver was driving under the influence and rear-ended you, damaging your vehicle and leaving you with an injury
Your property manager failed to maintain the condition of the house you live in and you were injured
Your medical professional ignored your allergy list and prescribed you a medication that you are allergic to
A truck driver failed to maintain the condition of their truck which caused a truck accident that left you with an injury
In each of these examples, another person was liable for your injury. A personal injury case can help you collect the compensation that you need to move past the injury.
Four Important Elements of Personal Injury
Negligence is often a part of a personal injury case. In addition to negligence, a personal injury case must also include the following four important elements:
Duty of Care
In order for a person to be liable for your damages, they must have owed you a legal duty of care. This is an expectation that they will take the appropriate actions to avoid harming you or anyone else. When you choose to drive a vehicle, you owe a legal duty of care to the other drivers on the road. A medical provider has a legal duty of care to each one of their patients.
Breach of Duty
In order for the person to be liable, they much have breached that duty of care in one way or another. While most causes of personal injury are in the form of negligence, injury can also be intentional. When building a personal injury case, it is important that we collect the evidence that identifies the breach of duty.
Causation
It is not enough to identify a duty of care and a breach of that duty. We must also connect the liable person as being the cause of the accident or injury. The negligent action must have been the direct cause. A driver who is negligent will be the cause if an accident occurs. A medical provider who fails to follow hospital guidelines will be the cause if medical malpractice occurs.
Damages
In addition to identifying cause, we must also demonstrate that actual damages are present as a result of the negligence. Damages are the financial costs that occur because of the injury.

Damages in a personal injury case might include:
Medical costs
Lost wages/ diminished income
Loss of work benefits
Household costs
Property damage
It is also important to note that not all costs are economic. While you can calculate the exact amount of income that you lose or the cost to repair your vehicle, you cannot calculate things like pain and suffering or diminished earning value as easily. Your personal injury legal team can help you come up with an amount that fully covers your damages.
Contact an Edison Personal Injury Lawyer to Discuss Your Negligence Case in New Jersey
Did you or a loved one sustain serious injuries due to negligence in New Jersey? Don't let the medical bills pile up while you wait for the negligent party or their insurance company to do the right thing. Right now, you need an aggressive personal injury attorney on your side, fighting to get you the compensation you need, want, and deserve. The skilled attorneys at Rudnick, Addonizio, Pappa & Casazza PC represent clients injured because of negligence FreeHold, Long Branch, New Brunswick, East Brunswick, and in and throughout New Jersey. Call (732) 264-4400 or fill out our online contact form to schedule a consultation about your case. We have an office conveniently located at 25 Village Court Highway, #35 Hazlet, NJ, 07730 as well as an office in East Brunswick.

The articles on this blog are for informative purposes only and are no substitute for legal advice or an attorney-client relationship. If you are seeking legal advice, please contact our law firm directly.