Truck Accidents: Who's to Blame?
April 2, 2022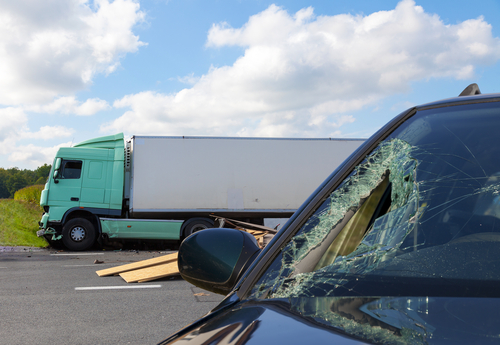 Truck accidents can lead to disastrous outcomes. The large size of the commercial truck paired with the smaller size of a passenger vehicle usually leads to life-changing injuries. One of the first questions that people have after a truck accident is, who is responsible? Liability may be important to explore, especially if you're left with expensive injuries following a truck accident.
Who Can Be At Fault in a Truck Accident?
There are a few parties who can be responsible when a truck accident occurs, including:
Truck Driver
The truck driver can be responsible if they acted in a way that is negligent to the care of others on the road. Negligence may include speeding, distracted driving, drinking and driving, or even failing to make necessary repairs on the truck.
Truck Owner
The truck driver is not always the truck owner. A truck's owner may be responsible if the owner doesn't keep up with important maintenance or repairs.
Truck Manufacturer
Truck manufacturers can also be responsible for a truck accident if the accident is due to faulty parts or design mistakes. Defective products can lead to unexpected conditions, sometimes causing the truck driver to drive off the road or their brakes not working.
Repair Company
The repair company that the trucking company uses may be responsible for a truck accident if they don't make necessary repairs. For example, if a technician notices a potentially dangerous part on the truck, and do nothing to solve it, they could be held responsible if that same part later leads to an accident.
Truck Company
The company in which the truck driver works may be at fault if they don't follow government rules for hiring and training drivers. For example, if the truck company fails to review new hires driving records, or they don't provide sufficient training as set by the state and government, they could be held responsible if that driver causes an accident.
Loading Company
The loading company could be responsible for an accident if they load the cargo in a way that is unsafe, such as improper loading or going over the weight limits.
Truck accident liability isn't always clear and usually requires further investigation. A deeper investigation into the accident can help you uncover details like what led to the accident and who is responsible for it.
Why Pursue a Truck Accident Case?
Because truck accidents often lead to injuries, filing a personal injury case can help you collect the funds you need to recover. If you're involved in a truck accident, you may not be able to return to work for a while. It's possible that you may never be able to fully return to the same work duties that you once did, reducing your earning capabilities.
Truck accidents also often lead to property damages. The purpose of a personal injury case is to collect the compensation that can help you recover costs like medical bills, rehabilitative costs, property damages, and lost wages. Pain and suffering are also commonly a part of a truck accident personal injury case because of the nature of the injuries.
Contact a Piscataway Personal Injury Lawyer to Discuss Your Truck Accident Case in New Jersey
Did you or a loved one sustain serious injuries due to a truck accident in New Jersey? Don't let the medical bills pile up while you wait for the negligent party or their insurance company to do the right thing. Right now, you need an aggressive personal injury attorney on your side, fighting to get you the compensation you need, want, and deserve. The skilled attorneys at Rudnick, Addonizio, Pappa & Casazza PC represent clients injured because of a truck accident in Piscataway, Middletown, Perth Amboy, Edison, and throughout New Jersey. Call (732) 264-4400 or fill out our online contact form to schedule a free consultation about your case. We have an office conveniently located at Park Village, 25 Village Court Highway, #35 Hazlet, NJ 07730, as well as an office in East Brunswick, NJ.
The articles on this blog are for informative purposes only and are no substitute for legal advice or an attorney-client relationship. If you are seeking legal advice, please contact our law firm directly.