Tips For Answering Deposition Questions for Your Medical Malpractice Lawsuit in New Jersey
December 18, 2018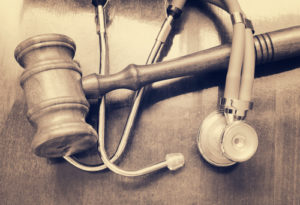 Depositions are used to help discover information and evidence during the litigation process. Usually, a witness is questioned under oath while a member of the court records their testimony. There are a number of basic tips that you should follow while undergoing this important process.
What is a Deposition?
When you are going through a lawsuit, whether it's for medical malpractice or injuries sustained in a motor vehicle accident, it's likely that you will experience a deposition. Deposition hearings are simply a period of questions and answers directed at a witness. Information gathered during depositions are used to support either the prosecution or the defendant's theories about the case.
Tips for Your NJ Deposition
It's natural to feel apprehensive about being under oath and answering different questions regarding your case. Below are some basic tips to help you successfully manage your deposition hearing:
Only tell the truth: While giving your testimony, you are expected to tell the truth. Prior to questioning, you will have to swear under oath and under the penalty of law that you will be honest with your answers.
Only answer what is asked: Keep your answers brief and clear. Only answer questions that are specifically asked, and do not volunteer information. There is no reason to explain your thought process or reasoning for an answer unless you are directly asked. Often, attorneys may ask broad questions in the hopes of you revealing new information or facts. The best strategy to defend against this is to only answer exactly what was asked.
Listen to questions carefully: Actively listen to each question you are given. Do not answer any questions you do not understand. Instead, truthfully state you don't understand the question.
Grounds for Objections to Questions at a New Jersey Deposition
Sometimes a witness will be asked a question that is improper or unfair. While discovering information is the point of depositions, there are three different grounds by which a witness can object to the validity of a question. The three types of objections include:
Relevancy: Questions may be considered improper based on the grounds that the line of questioning is irrelevant or immaterial to the case.
Form: This type of objection is used when an attorney is being unclear, ambiguous or asking a compound question.
Privilege: Attorneys can object to certain questions to help ensure clients correctly utilize their 5th Amendment privilege to avoid self-incrimination.
Contact a Hazlet Medical Malpractice Attorney for a Consultation About Your Medical Malpractice Case in New Jersey
Were you or a loved one injured due to medical malpractice in New Jersey? Then you need to talk to an experienced medical malpractice lawyer as soon as possible for guidance on how to proceed. The Hazlet medical malpractice attorneys at Rudnick, Addonizio, Pappa & Casazza PC are prepared to assist you with your legal claim. We represent victims of negligent surgeons, doctors, nurses, and pharmacists throughout New Jersey, including Middletown, Manalapan, Piscataway and East Brunswick. Call us today at (732) 264-4400 or fill out our online contact form to schedule a consultation. Our main office is located at Park Village, 25 Village Court Highway, #35 Hazlet, NJ 07730, and we also have offices in East Brunswick.
The articles on this blog are for informative purposes only and are no substitute for legal advice or an attorney-client relationship. If you are seeking legal advice, please contact our law firm directly.