A Short Guide to Spinal Cord Injury Lawsuits in New Jersey
May 12, 2020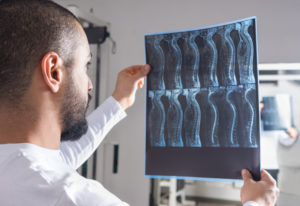 In the world of personal injury law, the term used to categorize the most serious harms is known as a "catastrophic injury." The definition of a catastrophic injury is one with "direct and proximate consequences" that "permanently prevent an individual from performing any gainful work," as per the United States Legal Code (USCS). One of the most serious catastrophic injuries is a spinal cord injury. These injuries can lead to a lifetime of high medical costs such as surgeries, medication, and rehabilitation. The injured person may not be able to return to their job, and depending on the severity may no longer be able to work at all. Here is a short guide to spinal cord injuries, and how personal injury laws in New Jersey can help compensate victims.
What is a Spinal Cord Injury?
A spinal cord injury is generally defined as the damage that results from violent impacts to the spinal column or the nerves at the end of the spinal canal. This can happen in a number of ways: from a fall, being hit by an object or weapon, or another other impact that harms this vital connection between the brain and the rest of the body. As a result, the victim may suffer partial paralysis in their limbs, loss of sensation and movement below the waist (paraplegia), and in the most serious cases, loss of both below the neck (tetraplegia).
Who is Liable for Injury Compensation?
Like in most states, spinal cord injury victims usually seek compensation under the legal theory of negligence. Negligence is when one party owes another a certain duty of care to prevent harm. When that duty is breached and the second party is injured as a result, the first party may be held financially responsible for damages the second suffered due to that negligence. For example, a driver owes other drivers on the road a duty to drive safely and avoid accidents. If they cause an accident, they are responsible for the physical injuries and property damage. If it happens in a public place or on some else's property, a jury may award damages under a premises liability concept.
Lawsuit Timing and Evidentiary Issues
New Jersey places a time limit on filing personal injury lawsuits, known as a statute of limitations. The statute of limitations for personal injury lawsuits is two years, either from the date of the accident or the date the injury was discovered. It is also important to note how important it is to seek legal help before you file any lawsuits or agree to any settlements. Putting the right number on how much you are entitled to receive in financial compensation takes thorough research and often expert opinions, especially on the medical side. Your past medical costs may be easy to calculate, but you are also entitled to seek damages for future medical care as well. You may also seek damages for lost wages, loss of earning potential, and physical and emotional pain and suffering. Knowing the right number may make all the difference for adequate future care.
Contact a New Jersey Personal Injury Lawyer to Discuss Your Catastrophic Injury Case Today!
Did you or a loved one sustain serious injuries due to a catastrophic injury New Jersey? Don't let the medical bills pile up while you wait for the negligent party or their insurance company to do the right thing. Right now, you need an aggressive personal injury attorney on your side, fighting to get you the compensation you need, want, and deserve. The skilled attorneys at Rudnick, Addonizio, Pappa & Casazza represent clients injured because of spinal cord injuries in East Brunswick, Holmdel, Freehold, Marlboro and throughout New Jersey. Call 866-567-0135 or fill out our online contact form to schedule a free consultation about your case. We have an office conveniently located at 197 State Route 18 South Suite 3000 in East Brunswick, as well as offices in Hazlet.
The articles on this blog are for informative purposes only and are no substitute for legal advice or an attorney-client relationship. If you are seeking legal advice, please contact our law firm directly.