Pedestrian Deaths Are on the Rise: Is Distracted Driving the Culprit?
December 30, 2019
Overview: Distracted Driving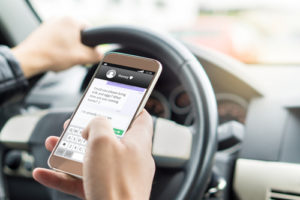 Have you noticed the increase in hands-free laws being implemented across the country? These laws make it illegal for drivers to have a cell phone in their hand while attempting to traverse down the road. Avoiding such behavior seems obvious, but you'd be surprised how many drivers admit to looking at their phone while driving. This behavior is called distracted driving. What exactly is distracted driving, and does it result in more pedestrian-related crashes?

What's Distracted Driving?
Distracted driving occurs anytime the person behind the wheel loses focus of their primary task. A driver may take their eyes off the road for a number of reasons, but they are all equally dangerous. Here are a few things that cause distractions behind the wheel:

Cell phones (texting while driving, using GPS, talking on the phone)
Music
Eating or drinking
Smoking
Talking to passengers
Fatigue
Looking at the scenery
While technological advancements have helped society in a lot of ways, they also pose a real threat behind the wheel.
Car Versus Man: Pedestrian-Related Accidents
As you can imagine, any collision between a heavy fast-moving vehicle and a pedestrian is disastrous. Throughout 2017, over 6,000 pedestrians were killed after being hit by a car. Pedestrian deaths and pedestrian accidents continue to increase. What's causing most of these types of accidents? Experts attribute most of the crashes to the dangerous behavior of driving distracted. Here are a few other facts about pedestrian-related crashes according to the CDC:

Older adults and children are the most vulnerable to pedestrian accidents
Nearly half of pedestrian-related crashes involve alcohol
Most fatalities occur at night in urban areas
Pedestrians and drivers both need to be vigilant when traveling. If you are a pedestrian, then be sure to always use the appropriate crosswalks, especially at night. Bike riders must obey the traffic laws and stay within their appropriate lanes.

If a driver's negligence or distracted driving causes an accident, then it's important to reach out to the authorities. Calling the police will ensure that you get the medical attention you need, and it will prompt the beginning of an investigation into the causes of the crash. Depending on your circumstances, you may be eligible to pursue financial compensation in court.

Contact a East Brunswick Personal Injury Lawyer to Discuss Your Distracted Driving Injury Case in New Jersey
Did you or a loved one sustain serious injuries due to distracted driving in New Jersey? Don't let the medical bills pile up while you wait for the negligent party or their insurance company to do the right thing. Right now, you need an aggressive personal injury attorney on your side, fighting to get you the compensation you need, want, and deserve. The skilled attorneys at Rudnick, Addonizio, Pappa & Casazza PC represent clients injured because of distracted driving in East Brunswick, Hazlet, Middletown, Red Bank, and throughout New Jersey. Call 866-567-0135 or fill out our online contact form to schedule a consultation about your case. We have an office conveniently located at 197 State Route, 18 South Suite 3000, East Brunswick, NJ 08816 and we also have offices in Hazlet.

The articles on this blog are for informative purposes only and are no substitute for legal advice or an attorney-client relationship. If you are seeking legal advice, please contact our law firm directly.