Is New Jersey a 50-50 State When It Comes to Divorce?
February 28, 2020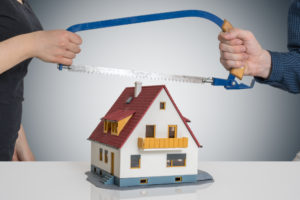 In divorce, it is often necessary for the court to conduct an equitable division of the parties' marital property. It should be noted that "equitable" does not mean "equal." While an equal division would mean that marital property is divided 50/50 between spouses, an equitable division merely requires that marital property is divided fairly between spouses; a fair division does not necessarily have to be an equal division. New Jersey is an equitable distribution state, which means that courts look to divide marital property in a fair manner, but not necessarily in a 50/50 manner.
How Do Courts Divide Property in Divorce
Courts follow a multi-step process during equitable division. The first step involves determining which of the divorcing couple's assets are marital; next, the value of the assets need to be calculated; and finally the court must equitably divide all the marital assets according to a list of legal factors.
Determining Which Assets Are Marital in Nature
The first step in equitable distribution requires identifying which assets owned by the spouses are marital property. Equitable distribution only applies to marital assets; any assets that are separately owned by a spouse and are not marital are not subject to equitable distribution and remain the property of the spouse that owns them.
Marital property usually includes property and assets that are acquired during the marriage, while property that was owned by a spouse prior to marriage is often separate property. However, even if property is owned prior to the marriage, any increase in value of the property may be considered a marital asset subject to equitable distribution. And separate property may become a marital asset if it is commingled with marital property (for example, if a spouse uses an inheritance to purchase or pay down the mortgage for the marital residence)
Calculating the Value of Assets
Next, the court must determine the value of the various marital assets. Although this is often a straightforward task, for complex assets such as significant real estate, business interests, or valuable artwork or jewelry, it may be necessary for the parties and the court to rely on valuation experts to set a value for the assets.
Factors for Deciding on the Equitable Distribution
Finally, the court must conduct an analysis of multiple factors to determine what division of the marital property would be most fair under the circumstances of the case. Factors considered by the court in ruling on equitable distribution include:
The length of the marriage
The standard of living during the marriage
The respective age and health of the spouses
The respective incomes and earning capacities of the spouses
Any tax consequences incurred by each spouse as a result of a particular equitable distribution
The debts of the spouses
The terms of any prenuptial agreements
Whether one spouse has been named parent of primary physical custody for the couple's children
Spouses do not need to leave the issue of equitable distribution to the courts; instead, spouses may come to a settlement agreement that can be incorporated into the court's judgment of divorce. Whether you negotiate a settlement or litigate equitable distribution in court, it is always advisable to have the services of an experienced divorce attorney who can advocate for your rights and interests.
Contact a Hazlet Family Law Attorney for a Consultation About Divorce in New Jersey Today
If you are thinking about filing for divorce, or if you have already started the divorce process and are dealing with another matter such as child custody, child support, or property division, you need to speak with a qualified attorney. The New Jersey family law attorneys at Rudnick, Addonizio, Pappa & Casazza PC represent clients throughout the state, including Middletown, Howell, Marlboro, and Manalapan. We understand how challenging this time can be for you, which is why we will fight hard to protect your interests, and the interests of your loved ones, throughout the legal process. Call us at (732) 264-4400 or fill out our confidential contact form to schedule a consultation. We have an office conveniently located 25 Village Ct., Hazlet, NJ 07730, as well as offices located in East Brunswick.

The articles on this blog are for informative purposes only and are no substitute for legal advice or an attorney-client relationship. If you are seeking legal advice, please contact our law firm directly.