Keep Your Personal Injury Accident Evidence
February 8, 2018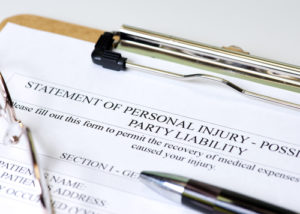 A lot goes on in the days following an accident that resulted in a personal injury. People are reaching out to make sure you are okay while your insurance company is looking for documents and breathing down your neck — all while you most likely just want your injuries tended to and to get your life back on track.
Well, in order to do the latter it is essential you keep in mind some important steps for what to do following an accident. Keep in mind that your insurance claim adjuster most likely does not have your best interest at heart so it is important to do the following to make sure your personal injury claim is as strong as possible.
PERSONAL INJURY LAWYERS IN MONMOUTH COUNTY ARE HERE TO HELP YOU OBTAIN COMPENSATION THAT IS VITAL TO YOU AND YOUR FAMILY
Collect evidence from the scene of the accident – this is one of the most important things you can do following an accident. If it did not happen in your own home you should do your best to return to the scene of the accident as soon as possible. Bring your phone or a camera with you to document anything and everything that may have caused your accident. There could be something there you did not see or know while the accident took place. Make sure to take photos of anything that may prove useful. In addition, take multiple photos from different angles and later go through and choose which ones best represent what happened or the extent of damages. A photograph showing the dents in a vehicle can help explain the impact and force with which you were struck by another vehicle. If you have any other pieces of physical evidence, like a bloodied shirt, try to keep it in the same condition as the day of the accident. This too can help it showing the extent of an injury.
Locate witnesses – while at the scene of the accident you might come upon a witness, like a store manager or crossing guard. Speak with them about the accident and what they saw and see if they would be willing to testify on your behalf. An eyewitness can go a long way in strengthening your case. Take note that people's memories can fade quickly so locating witnesses should be done as soon as possible.
Document injuries – it is essential to document any and all injuries sustained in your accident. There are the injuries that are immediately apparent and should be documented by photographs. Injuries like cuts, scrapes, and bruises heal and fade over time so later on down the road, it might be difficult to prove the true extent of your injuries. Again, photographs will help in proving how injured you really were at the time of the incident.
Following these steps in the immediate aftermath of an accident is vital to putting you in a strong position to seek compensation for your accident and hold whoever/whatever is responsible for it accountable for their actions or negligence.
CONTACT OUR MIDDLESEX, OCEAN, & MONMOUTH COUNTY PERSONAL INJURY LAWYERS
In addition, it is in your best interest to find a personal injury lawyer to help strengthen your case. Share all of the evidence, medical records and witness you put together to your lawyer.
The attorneys at Rudnick, Addonizio, Pappa & Casazza PC can help turn your materials in a strong case and get you back to living your life. Contact us today at 732-264-4400 to schedule a free consultation.
The articles on this blog are for informative purposes only and are no substitute for legal advice or an attorney/client relationship. If you are seeking legal advice, please contact our law firm directly.