Is Medical Malpractice a Crime?
March 15, 2019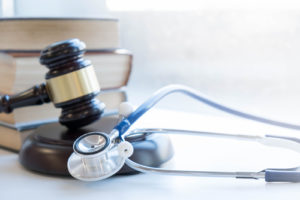 No one can forget the very public manslaughter trial of Michael Jackson's doctor. The criminal case alleged that the doctor gave the pop star fatal doses of the drug Propofol to help with his insomnia, which ultimately led to the death of Michael Jackson.
After a two-year long trial, Doctor Murray was ultimately found guilty of involuntary manslaughter for his medical negligence. This begs the question: when does medical malpractice become criminal?
Read on to learn more about what medical negligence is, when you can pursue a civil suit and when you should pursue criminal charges.
What is Medical Negligence?
In legal terms, negligence means behaving in a way that breaches a duty to care for your fellow peers. In the medical arena, negligence by a care provider may have life-threatening impacts on a patient. Medical negligence, or medical malpractice, has four main elements:
The doctor had a legal duty to provide treatment to the patient
The doctor failed to abide by medical standards and breached his duty of care
The patient's injury resulted from this breach of duty
The patient's injury caused real damages that can be compensated financially
When medical negligence causes real damages, victims have legal recourse. They may decide to pursue a civil suit and/or a criminal case against the perpetrator depending on the circumstances surrounding the negligence.
When Medical Negligence Becomes Criminal
Pursuing criminal charges against a medically negligent doctor is rare. The American Medical Association strongly opposes such criminal prosecution of doctors, but they do acknowledge that some doctor's recklessness does rise to the level of criminal negligence.
In most situations, medical negligence will only be considered criminal when the circumstances surrounding the case prove the doctor's recklessness was extreme. Here are some of the situations that may rise to the level of criminal medical negligence:
A doctor's clear indifference to human life
Willful or reckless endangerment of the patient's life
Wanton disregard of past negative outcomes
Knowingly using risky therapies as treatment options
Failing to give a patient a timely response
Gross negligence
Doctor was intoxicated
Doctor was deceptive
Unjustifiable risk
Improper motives
Medical staff accused of criminal medical negligence are usually charged with related crimes like murder, manslaughter, negligent homicide, illegal sexual contact or the illegal distribution of narcotics.
Contact a Middletown Medical Malpractice Attorney for a Consultation About Your Medical Malpractice Case in New Jersey
Were you or a loved one injured due to medical malpractice in New Jersey? Then you need to talk to an experienced medical malpractice lawyer as soon as possible for guidance on how to proceed. The Middletown medical malpractice attorneys at Rudnick, Addonizio, Pappa & Casazza are prepared to assist you with your legal claim. We represent victims of negligent surgeons, doctors, nurses, and pharmacists throughout New Jersey, including Hazlet, Middletown, Keyport, Union Beach, Holmdel, Red Bank, Monroe, Rumson, Asbury Park, Highlands, Atlantic Highlands, Leonardo, Sea Bright and Monmouth Beach. Call us today at 732.264.4400 or email us to schedule a consultation. Our main office is located at 197 State Route 18 South, Suite 3000, East Brunswick, and we also have offices in Hazlet.
The articles on this blog are for informative purposes only and are no substitute for legal advice or an attorney-client relationship. If you are seeking legal advice, please contact our law firm directly.