How to Navigate Thanksgiving and Child Custody
November 5, 2021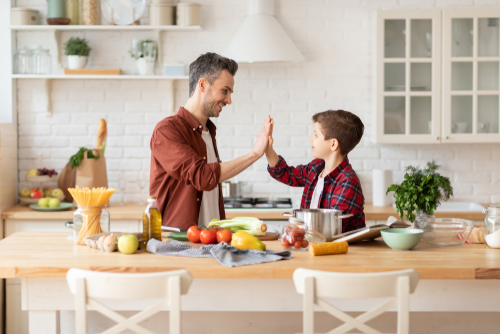 Navigating the first year of divorce can be difficult for the whole family. In addition to the court proceedings and adjusting to a new living arrangement, you'll also have to eventually navigate the holidays. The holidays are quickly approaching us, and now is the time to prepare so you can make the best of it.
Why the Holidays Can Be Difficult in the First Year
It doesn't matter if you have been divorced for almost a year, or if your divorce was recently finalized, navigating the first of the holidays can be difficult. Even when the divorce was amicable and mutual, you may still feel alone or fearful of the upcoming holidays. There are a few reasons for this:
You no longer have traditions
You may have to divide your time with your child
You may have to spend time alone on the holidays
You may not be financially capable of giving your child the same holiday
Divorce brings up many challenges, including finding the best way to manage holidays after the divorce. You may find that as the holidays approach, you dread them.
How to Make the Best of the Holidays
These tips can help you navigate your first holiday season divorced:
Create New Traditions
You may not be able to engage in the same traditions that you once had as a family, but you can make new ones. While these traditions may feel odd at first, they will become normal after a few years. This is also your opportunity to improve on how you celebrate the holidays, skipping things you didn't enjoy.
Maintain Traditions
Just because you're divorced doesn't necessarily mean that you have to skip your holiday traditions. If you live near your ex-spouse, consider getting together for the holidays so your child knows that you're willing to put aside your differences for them. Find ways to create new traditions while incorporating parts of the previous ones.
Find Others Who Can Relate
Sharing the holiday with your ex-spouse may not always be an option. If your child custody agreement determines that your child is with your ex-spouse, you may be left spending the holidays alone. This doesn't mean that you have to skip the day or sit around feeling sad or alone. Connect with others who may know what you're going through. Reach out to other family or friends who may also be divorced. Consider attending an event or celebration with a divorce support group.
Focus on the Experiences
A divorce can change your finances. It can make it more difficult to afford nice presents or expensive meals. You can find other ways to make the holidays special for your child. Organize craft nights or take a night to drive around and look at the holiday lights. Focus on enjoying the unique experiences, and not the cost of the gifts.
Child Custody Questions?
It's important to consider how the holiday season may affect your child custody agreement ahead of time. If you're considering divorce, or currently navigating it, you need a divorce lawyer who can help you plan for these things.
Contact a Woodbridge Family Law Attorney for a Consultation About Child Custody in New Jersey Today
If you are thinking about filing for divorce, or if you have already started the divorce process and are dealing with another matter such as child custody, child support, or division of assets, you need to speak with a qualified attorney. The New Jersey family law attorneys at Rudnick, Addonizio, Pappa & Casazza PC represent clients throughout the state, including Woodbridge, Edison, Long Branch, and Freehold. We understand how challenging this time can be for you, which is why we will fight hard to protect your interests, and the interests of your loved ones, throughout the legal process. Call us at (732) 264-4400 or fill out our confidential contact form to schedule a consultation. We have an office conveniently located at Park Village, 25 Village Court Highway, #35 Hazlet, NJ 07730, as well as an office located in East Brunswick, NJ.
The articles on this blog are for informative purposes only and are no substitute for legal advice or an attorney-client relationship. If you are seeking legal advice, please contact our law firm directly.