How to File a Lawsuit for Neglect in a Nursing Home
October 2, 2019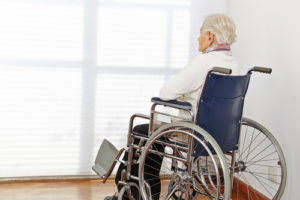 When a resident of a nursing home suffered abuse or neglect, it's possible to file a lawsuit against the nursing home. When family members choose to put a loved one in a nursing home, they are expecting their loved one to receive high-quality care in an environment that is both safe and friendly. They are entrusting staff members to care for their loved one in the same way that they would, however, when that doesn't happen it's important to know what steps you should take when your loved was a victim of nursing home negligence.
How Does a Nursing H
ome Become Liable?
A nursing home may be liable for damages when abuse or neglect occurs inside the nursing home. Regardless of whether not a staff member intentionally or unintentionally caused injuries, the nursing home is typically held responsible for what happened. There are times when a staff member makes an unintentional mistake that causes harm to a patient, such as giving him or her the wrong type of medication. There are a lot of different ways for the nursing home to be held liable for damages. Some of the different scenarios include:
Improperly Maintaining the Property
When a nursing home allows residents to live on the property, the owner of that nursing home owes a duty of care to those individuals. The owner of the nursing home needs to maintain the property to make sure it is in the best condition at all times. If there are different safety hazards that are not properly taken care of over time and someone gets hurt because of those hazards, they have the right to file a lawsuit against the nursing home for their failure to properly maintain the property.
Lack of Supervision
A nursing home should only hire skilled professionals that truly enjoy working with the public. These professionals need to be good people that are going to have a good work ethic. Unfortunately, it is not uncommon for nursing homes to deal with understaffing issues. These jobs require a lot of work and effort and they do not always pay well. It is for those reasons that understaffing often occurs. When the nursing home fails to perform the proper checks on its staff members and they end up doing something wrong that causes a resident to suffer, the nursing home may be liable.
Not Following Protocol
Different nursing homes will have different protocols that should be followed by everyone working in the facility. It is important to follow protocol to avoid making mistakes and to ensure that the residents are taken care of in the right way. When staff members are not following protocol and they are simply doing their own thing, they could make costly mistakes that lead to injuries and other issues for residents that need care.

These are a few of the reasons why a nursing home could end up being liable for damages that occur. The nursing home may be liable when staff members engage in acts of violence against residents and when staff members fail to provide the proper medical treatment for the residents.

When filing a lawsuit for negligence or abuse that occurred in a nursing home, it is important for a family to file a complaint against a nursing home. After filing that complaint, they should hire an attorney who will perform a full investigation and work on helping the family receive justice.
Contact A Hazlet Personal Injury Lawyer to Discuss Your Nursing Home Case in New Jersey
Did your loved one sustain serious injuries due to nursing home abuse in New Jersey? Don't let the medical bills pile up while you wait for the negligent party or their insurance company to do the right thing. Right now, you need an aggressive personal injury attorney on your side, fighting to get you the compensation you need, want, and deserve. The skilled attorneys at Rudnick, Addonizio, Pappa & Casazza represent clients injured because of nursing home abuse and neglect in East Brunswick, Holmdel, Freehold, Marlboro and throughout New Jersey. Call 866-567-0135 or fill out our online contact form to schedule a consultation about your case. We have an office conveniently located at 197 State Route 18 South Suite 3000 in East Brunswick, as well as offices in Hazlet.
The articles on this blog are for informative purposes only and are no substitute for legal advice or an attorney-client relationship. If you are seeking legal advice, please contact our law firm directly.