How Property is Divided in a NJ Divorce
March 8, 2022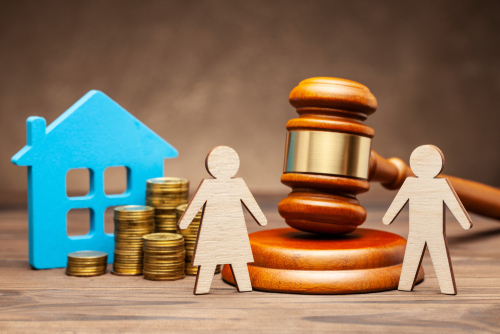 Divorce can be one of the most emotional and confusing things you go through in life. You have spent years building your life with someone, which can make it difficult to evenly assess and divide your assets equally. Learning more about the process can help you prepare for your upcoming divorce.
What is an Equitable Property State?
New Jersey is an equitable property state. This means that all assets or property acquired during the marriage should be divided equally upon a divorce. While there are exceptions to this law, a court must agree that dividing the assets would be considered unjust. In most cases, any assets purchased during the marriage will be subject to equitable property state laws.
How to Equitably Divide Property and Debts During Divorce
It's often recommended that couples divide their assets on their own without the intervention of a judge. However, this is not always possible, especially when a divorce isn't amicable. If an agreement cannot be made between spouses, the couple can take their dispute to court. Dividing assets is often done using percentages. This means that each spouse receives a percentage of the property ownership. The equitable division may not always be 50/50. It's not uncommon for the higher-earning spouse to receive 2/3 of the assets.
What Assets are Divided During Divorce?
There may be questions as to what types of assets and debts are included in a divorce. New Jersey court divides them into the following categories:
Marital property: Marital property includes any earnings or assets that the couple acquires during marriage.
Non-marital property: Non-marital property includes inheritances or gifts given specifically to one spouse and not the other.
Combined assets: It's possible for assets to be a combination of marital and non-marital property. If combined with marital property, it typically becomes marital property.
Disagreements often arise from which category an asset falls into. For example, one spouse may argue that they used non-marital assets, such as an inheritance, to purchase an asset used by both spouses. When there are disagreements as to the type of asset, it's usually brought in front of a judge in court.
Who Has Access to Assets During Divorce?
Another dispute involving assets during a divorce includes who has immediate access to an asset during divorce. The most common asset of this type may be who gets to live in the house. Even if a judge orders 50/50 ownership of a property, it can be difficult to decide who gets to live in the house.
The judge may consider many factors when deciding this, including if there are children involved. If there are children involved, the judge may order that the parent who spends the most time with the kids, or who has primary custody of them, gets to stay in the house as long as they're caring for the kids. If kids aren't involved, technically neither spouse has the legal right to order the other to leave. The judge may order that the couple sell the property and if it earns any profits, they are divided based on the percentages given.
Contact a Manalapan Family Law Attorney for a Consultation About Divorce in New Jersey Today
If you are thinking about filing for divorce, or if you have already started the divorce process and are dealing with another matter such as child custody, child support, or division of assets, you need to speak with a qualified attorney. The New Jersey family law attorneys at Rudnick, Addonizio, Pappa & Casazza PC represent clients throughout the state, including Middletown, Howell, Woodbridge, and Edison. We understand how challenging this time can be for you, which is why we will fight hard to protect your interests, and the interests of your loved ones, throughout the legal process. Call us at (732) 264-4400 or fill out our confidential contact form to schedule a consultation. We have an office conveniently located at Park Village, 25 Village Court Highway, #35 Hazlet, NJ 07730, as well as an office located in East Brunswick, NJ.
The articles on this blog are for informative purposes only and are no substitute for legal advice or an attorney-client relationship. If you are seeking legal advice, please contact our law firm directly.