How Divorced Parents Can Handle Child Custody on Halloween Night
October 14, 2021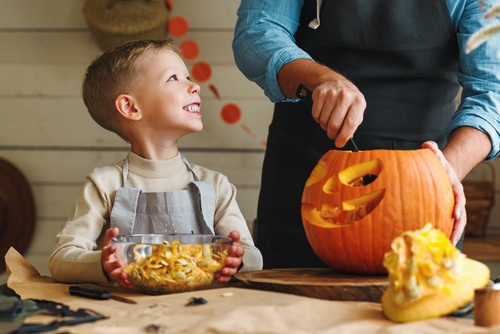 You might have assumed that any debates regarding child custody would be over with the completion of your divorce. However, many families may find that the disagreements continue as they're presented with new obstacles. One of these challenges may be navigating holidays, like Halloween.
Know the Details of Your Custody Agreement
Before determining where a child should spend Halloween or any other holiday, it may be helpful to refer to the custody agreement. Some custody agreements may dictate who gets the child for certain days. If you and your ex-spouse have joint custody, then it may be up to both of you to decide where the child spends holidays. Some parents may also have concerns or want to request a change in an agreement to accommodate certain holiday events.
Creative Ways to Navigate Child Custody on Halloween
It's possible to come to an amicable agreement that works for you, your child, and your ex-spouse. Consider these creative ways to navigate child custody:
Share the holiday together: If both you and your ex-spouse want to celebrate the holiday, consider doing so together.
Plan multiple Halloween events: If your child is scheduled to be with the other parent on Halloween, but you still want to celebrate, you might plan multiple events. Plan your own Halloween celebration on one of the days that you have with them. Your child will likely be pleased with the idea of celebrating twice.
Alternate years or holidays: Many parents also find it effective to alternate years or holidays. If your ex-spouse has your child this Halloween, for example, you get them for the holiday next year. You might also alternate holidays in general, meaning that you get your child on Thanksgiving, and then your ex-spouse gets them on the next one.
Make other plans: If your current child custody agreement doesn't leave you with your child this Halloween, it doesn't mean you have to skip it. Make your own plans.
These are just a few solutions that may work for you and your family. It's important to consider your family's needs and find one that accommodates your child. Child custody agreements are typically in place to protect the best interests of the child. If you have concerns about your child's safety on Halloween or any other day of the year, reach out to an experienced family law lawyer to discuss your concerns.
When to Contact a Family Law Lawyer
It's also possible for you and your spouse to find that a current child custody agreement no longer works. Perhaps they're not following the rules that you both agreed to, or they plan to move out of state with your child, which will make alternating holidays and weekends even more difficult to navigate. Sometimes, child custody agreements need to be reevaluated.
Additionally, it's always a good idea to plan ahead for these types of concerns when first making the child custody agreement. It's important to work closely with a lawyer who is familiar with New Jersey family law.
This can help you prepare for upcoming disagreements related to child custody.
Contact a Howell Family Law Attorney for a Consultation About Child Custody in New Jersey Today
If you are thinking about filing for divorce, or if you have already started the divorce process and are dealing with another matter such as child custody, child support, or division of assets, you need to speak with a qualified attorney. The New Jersey family law attorneys at Rudnick, Addonizio, Pappa & Casazza PC represent clients throughout the state, including Middletown, Howell, Marlboro, and Manalapan. We understand how challenging this time can be for you, which is why we will fight hard to protect your interests, and the interests of your loved ones, throughout the legal process. Call us at (732) 264-4400 or fill out our confidential contact form to schedule a consultation. We have an office conveniently located at Park Village, 25 Village Court Highway, #35 Hazlet, NJ 07730, as well as an office located in East Brunswick, NJ.
The articles on this blog are for informative purposes only and are no substitute for legal advice or an attorney-client relationship. If you are seeking legal advice, please contact our law firm directly.