DUI Charges and Penalties in NJ
August 16, 2019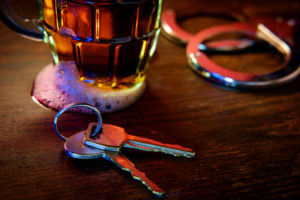 Is drunk driving still a problem in the US?

The National Highway Traffic Safety Administration (NHTSA) collected data from all the police departments across the nation, and they found that about 1.5 million people are arrested every year for driving under the influence. This results in an average of $132 billion in losses, and the loss of countless lives.

For these reasons, New Jersey police take DUI offenses very seriously. Below we'll get into details about DUI charges and consequences in New Jersey.
Getting Charged with a DUI in New Jersey
New Jersey law prohibits motorists from driving a motor vehicle while under the influence of drugs or alcohol. This behavior is very difficult to monitor, but the police are always on the lookout for motorists who are not following traffic laws. Most often, it's an unrelated traffic violation that leads officers to suspect a driver may be intoxicated. Here are a few things cops look for that may indicate a driver is drunk:

Failing to use headlights at night
Driving below the speed limit
Failing to maintain their position in a lane
Weaving
Failure to stop at a stop sign or red light
Once a driver suspected of intoxication is pulled over, the police perform sobriety tests, breathalyzers or other tests to determine the person's level of intoxication. If your blood alcohol level exceeds the legal limit of .08 percent, then you can be criminally charged. Similarly, you'll be arrested and charged when you fail a field sobriety test.
The Consequences of a DUI in New Jersey
If you've been charged with a DUI in New Jersey, then you could be facing a variety of penalties. First, you'll likely be arrested and taken to jail. That means you'll have to immediately attempt to get your friends or family to collect up some bail money. Your vehicle may get towed away if you're unable to get someone to come and pick it up for you. If you're ultimately convicted, then you may also face:
Fines from $300-$500
A suspension of your driver's license (6 months to a year)
Mandatory alcohol education programs
These penalties are only for first-time offenders. After your first offense, these penalties will all increase in severity.

Contact an Experienced Middletown DWI Defense Attorney About Your Drunk Driving Charges in New Jersey
Have you been charged with a DWI or DUI offense in New Jersey? A drunk driving conviction could leave you with a permanent record, and it could result in your driver's license being suspended for a very long time. That is why it is imperative that you speak with a qualified DWI defense lawyer about your case. The attorneys at Rudnick, Addonizio, Pappa & Casazza PC represent clients charged with drunk driving, breath test refusal, and related offenses in East Brunswick, Hazlet, Middletown, Monroe, Keyport, Union Beach, Holmdel, Atlantic Highlands, and throughout New Jersey. Call 866-567-0135 or fill out our confidential online form to schedule a consultation about your case. We have an office located at 197 State Route 18, South Suite 3000 East Brunswick, NJ 08816, as well as offices located in Hazlet.

The articles on this blog are for informative purposes only and are no substitute for legal advice or an attorney-client relationship. If you are seeking legal advice, please contact our law firm directly.