Dog-Related Injuries in New Jersey
March 1, 2019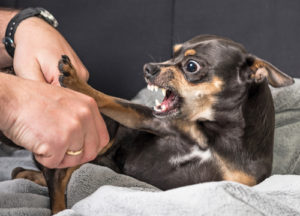 Most dog owners understand the life-long commitment and responsibility that comes along with being a pet owner, but few fully comprehend the extent of their liability in the event someone gets injured by their beloved pet. Statistics prove that most dog-related injuries occur to children, and most victims are injured by pets of family members or friends rather than strangers. The law is most often on the injured victim's side, so it's important to fully understand your responsibilities as a pet owner in the event someone is injured.
New Jersey's Laws Regarding Dog-Related Injuries
In New Jersey, a dog-owner is considered fully responsible for any damage their dog inflicts. This rule holds true even when there is no evidence that the animal has acted aggressively or violently in the past. If the dog-bite victim was not trespassing on your property, then you can be held financially responsible for all the damages associated with the bite. The dog-bite victim will need to prove three things to win a liability case in civil court. These facts are:
The defendant is the dog's owner
The victim was lawfully allowed to be in the area where the incident occurred
The dog bit the victim
There is one major exception to the general rule of dog owner liability. In situations where the victim was intentionally provoking or instigating the situation, the dog owner will not be financially responsible. Courtrooms agree that the dog owner is not liable in situations where the animal was acting in self-defense.
Will my Insurance Help?
You need to fully read your insurance contract to determine whether a dog-inflicted injury is coverable under your current homeowners' policy. In many cases, an insurance company may not agree to cover certain breeds of dogs under any circumstances.
What to do After a Dog-Related Accident
Directly following an animal attack, the victim should always seek out prompt medical treatment. This is important even when the person doesn't believe the injury is serious because it documents what happened and may also prevent further damage like infections from the wound. In some situations, it may be prudent to contact the police and have a police report filed immediately after the incident. This step will prompt an investigation into the situation, and it will also help prove whether the animal is properly vaccinated or not.
Contact a Middletown Personal Injury Lawyer to Discuss Your Dog Bite Case in New Jersey
Did you or a loved one sustain serious injuries due to a dog attack in New Jersey? Don't let the medical bills pile up while you wait for the negligent party, or their insurance company, to do the right thing. Right now, you need an aggressive personal injury attorney on your side, fighting to get you the compensation you need, want, and deserve. The skilled attorneys at Rudnick, Addonizio, Pappa & Casazza represent clients injured because of dog bites in Middletown, Keyport, Union Beach, Holmdel, Atlantic Highlands, and throughout New Jersey. Call 866.567.0135 or email us to schedule a free consultation about your case. We have an office conveniently located at 197 State Route 18 South, Suite 3000, East Brunswick, NJ, as well as offices in Park Village, 25 Village Court Highway #35, Hazlet.
The articles on this blog are for informative purposes only and are no substitute for legal advice or an attorney-client relationship. If you are seeking legal advice, please contact our law firm directly.