Do I Have to Disclose All of My Finances During Divorce?
July 7, 2020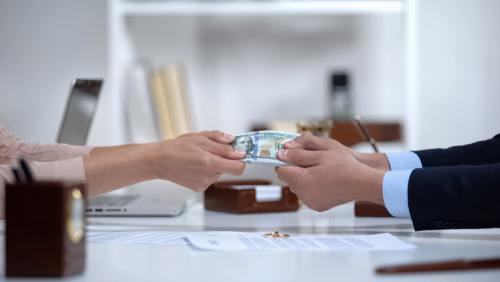 In a divorce proceeding, both spouses are required to disclose all their financial assets and income to each other and to the court. Unfortunately, sometimes a spouse may not disclose all their assets or income. Many times this error is simply an oversight. However, in some cases a spouse may deliberately try to conceal assets and income to avoid having them be part of the equitable distribution or to reduce his or her alimony or child support obligations. Intentional concealment of assets most frequently occurs with divorcing couples where one or both spouses are high-net worth individuals or have business interests.
How Spouses Conceal Assets in Divorce
There are multiple ways in which a spouse may try to conceal assets during divorce proceedings. With business interests, a spouse can use "creative" accounting to make it seem like the business generates less income than it actually does or is worth less than it actually is. A spouse can hold off on engaging in beneficial deals and transactions or even pay more in salaries to try to reduce the on-paper performance of the business.
As for other assets, spouses may try to hide them by placing them in trusts or gifting them to family and friends with the expectation that those assets will be returned after the divorce is finalized. Or a spouse will use marital assets to pay for his or her own expenses or the expenses of other family members so that there are fewer assets left for equitable distribution.
Discovering Hidden Assets during Divorce
Even if a spouse tries to hide assets during a divorce, it isn't impossible for the other spouse to discover those assets later. If a spouse is suspicious that his or her ex is hiding assets during the divorce proceedings, he or she should retain a forensic accountant who can review financial records and identify irregularities that can lead to the discovery of hidden assets.
In the divorce process, each spouse is entitled to "discovery," which is the process that takes place before trial during which the parties exchange information they intend to use at trial and request additional information or documents from each other. When it comes to the financial aspects of divorce, spouses will frequently request documents and information from one another such as tax returns, bank and brokerage account statements, loan documents, and other documents relating to the ownership or transfer of assets. Each spouse can also ask the other to answer questions called "interrogatories." A spouse may also request physical access to property to perform inventory and valuation. Finally, you may also request that your spouse undergo a deposition, during which a spouse must answer questions from the other spouse or their attorney under oath, with the proceeding being recorded.
Consequences for Hiding Assets in Divorce
If a spouse is proven to have hidden assets or income during the divorce proceedings, he or she may be subject to various consequences and penalties imposed by the court. For example, the court may order hidden assets to be equitably distributed between the spouses. The court may also order the spouse that hid assets to reimburse his or her spouse for the expenses incurred in uncovering the assets, such as the costs of forensic accounting or valuation experts and legal fees. Finally, in certain circumstances, a spouse who continually engages in concealment of assets may be jailed for contempt.
Contact a Hazlet Family Law Attorney for a Consultation About Divorce in New Jersey Today
If you are thinking about filing for divorce, or if you have already started the divorce process and are dealing with another matter such as child custody, child support, or division of assets, you need to speak with a qualified attorney. The New Jersey family law attorneys at Rudnick, Addonizio, Pappa & Casazza PC represent clients throughout the state, including Middletown, Howell, Marlboro, and Manalapan. We understand how challenging this time can be for you, which is why we will fight hard to protect your interests, and the interests of your loved ones, throughout the legal process. Call us at (732) 264-4400 or fill out our confidential contact form to schedule a consultation. We have an office conveniently located at Park Village, 25 Village Court Highway, #35, Hazlet, NJ 07730, as well as offices located in East Brunswick.
The articles on this blog are for informative purposes only and are no substitute for legal advice or an attorney-client relationship. If you are seeking legal advice, please contact our law firm directly.