Common Back and Neck Injuries in Truck Accidents
March 20, 2022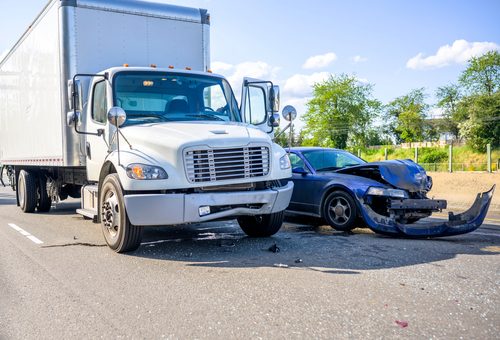 A large percentage of truck accidents lead to extensive injuries due to the size and impact of the truck. Commercial vehicles weigh an average of 30 times that of passenger vehicles. This leads to a few common back and neck injuries including:
1. Whiplash
Whiplash is a neck injury that occurs from a forceful movement. It can lead to neck pain and stiffness, loss of range of motion, chronic headaches, and tenderness. It can take up to six months for whiplash to heal, with some extreme cases taking even longer.
Whiplash most commonly occurs from rear-end accidents. If a truck slams into a passenger vehicle from behind, the driver and passengers may slam forward, injuring their necks.
2. Spinal Fracture
A spinal fracture is when the bones in the spine break. This can also put added pressure on the back's discs and nerves, leading to severe pain. Spinal fractures also commonly occur with spinal dislocation, which is when the ligaments near the spine stretch or tear. This can lead to nerve damage and chronic pain.
Spinal fractures or dislocation often led to pain near the spine, numbness and tingling, muscle spasms, or weakness.
3. Spinal Cord Damage
Spinal cord damage includes any injuries to the spinal cord. The spinal cord is responsible for sending signals to the brain, including how to move or talk. When the spinal cord becomes damaged, it can lead to a loss of mobility, including either temporary or permanent paralysis of the arms and legs.
The biggest problem with spinal cord damage is that it isn't repairable. Unlike other common injuries that occur in a truck accident, the spinal cord doesn't fully heal. Spinal cord damage can lead to a loss of movement, a loss of feeling, an inability to control the bladder, and involuntary muscle spasms.
4. Herniated Disc
A herniated disc is when the cushions between the spine's vertebrae shift or tear, putting pressure on the surrounding nerves. A herniated disc can lead to significant pain and the inability to participate in work or recreational tasks you once could. A herniated disc may take many months to recover fully from.
The most common symptoms of a herniated disc include extreme pain, numbness and tingling, muscles weakness, and even loss of bladder control.
5. Spinal Stenosis
Spinal stenosis is a condition in which the spinal column narrows, putting a lot of pressure on the nearby nerves. This can lead to pain and numbness in the arms and legs. Spinal stenosis can be a common condition found in people due to normal aging, but the significant impact of a truck accident can also worsen the condition.
Spinal stenosis leads to an increase in back or neck pain, numbness or tingling in the legs, bladder troubles, and leg pain.
Truck accidents can lead to a wide range of injuries. Some of these injuries will heal over time with the right treatment, while others may be permanent. If you're injured in a truck accident, it's important to first receive medical care. Then, consider your legal options as recovering from a truck accident can be lengthy and expensive.
Contact a Middletown Personal Injury Lawyer to Discuss Your Truck Accident Case in New Jersey
Did you or a loved one sustain serious injuries due to a truck accident in New Jersey? Don't let the medical bills pile up while you wait for the negligent party or their insurance company to do the right thing. Right now, you need an aggressive personal injury attorney on your side, fighting to get you the compensation you need, want, and deserve. The skilled attorneys at Rudnick, Addonizio, Pappa & Casazza PC represent clients injured because of a truck accident in Middletown, Howell, Marlboro, Manalapan, and throughout New Jersey. Call (732) 264-4400 or fill out our online contact form to schedule a free consultation about your case. We have an office conveniently located at Park Village, 25 Village Court Highway, #35 Hazlet, NJ 07730, as well as an office in East Brunswick, NJ.
The articles on this blog are for informative purposes only and are no substitute for legal advice or an attorney-client relationship. If you are seeking legal advice, please contact our law firm directly.